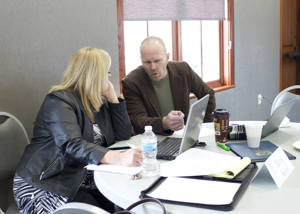 Connect with Southern Indiana, a regional leadership program managed by the University of Southern Indiana's Community Engagement, is now accepting applications for its 2016 class. The annual program is focused on promoting active citizenship for individuals across a nine-county region in southwest Indiana. Faculty from USI's entrepreneurial initiative will facilitate sessions on divergent and analytical thinking, idea generation, communication and strategic entrepreneurship from a community development perspective. The deadline to apply for the 2016 class is Monday, November 9.
"By bringing together participants from the different counties in our region and encouraging us to generate ideas that challenged the status quo, Connect taught us that we all have something of value to give," said Ken McWilliams, of F. C. Tucker Emge Realtors and a member of the 2014 class of Connect with Southern Indiana.
Participants will meet others from the region with similar concerns and interests, identify areas for collaborative projects and meet business and civic leaders while developing creative problem solving skills in a high-energy setting.
"One thing that sets the Connect program apart is its focus on the region as opposed to one county or community," said Leslie Townsend, director of Community Engagement. "Participants get a chance to not only learn about the nine counties, but to visit each one and selected attractions."
Participants will attend 10 full-day sessions, including one overnight retreat in New Harmony, Indiana, between January and May 2016. Members of the class will develop a collaborative project, which they will present at the end of the program.
Open to USI students and employees and Indiana residents living in Dubois, Gibson, Knox, Perry, Pike, Posey, Spencer, Vanderburgh or Warrick counties, up to 24 individuals will be selected for the 2016 program. Undergraduate and graduate credit is available for students who complete the program. Although participation in Connect is cost-free, tuition for college credit will be charged.
Applicants should have an interest in improving the quality of life in their community and/or region and a desire to develop leadership skills and become actively involved in their area. One year's residency in the region prior to January 2016 is required.
Additional information and an application for the 2016 Connect with Southern Indiana class can be found at USI.edu/connect or by contacting Leslie Townsend, ltownsen@usi.edu.