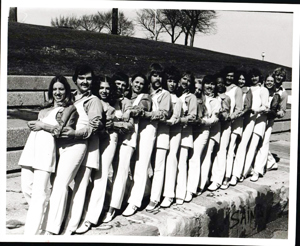 Alumni of the University of Southern Indiana's now-defunct show choir, the Mid-America Singers, will hold a reunion at 6:30 p.m. Friday, August 30 in the Kenneth P. McCutchan Art Center/Palmina F. and Stephen S. Pace Galleries, located in the lower level of the Liberal Arts Center.
The Mid-America Singers and Band entertained Tri-state audiences for 30 years before combining with the USI Madrigal Singers Show Choir in 2001 to form the USI Chamber Choir. In 1977, the Mid-America Singers gained national exposure by performing in "An Elizabethan Christmas Celebration" on PBS.
An Italian buffet, dessert, and drinks will be served at a cost of $25. Registration should be completed by noon on Wednesday, August 28. To register and pay online, click here or visit www.alumni.usi.edu. To pay by check or cash, contact Janet Johnson, director of Alumni and Volunteer Services, at 812/464-1924.
Disability-related accommodations also may be provided upon request.