News in HIIM!
Sixth Annual Health Informatics Tri-State Summit in Review

December 17, 2019 | By Kendall March
The University of Southern Indiana hosted the sixth Health Informatics Tri-State Summit on October 23rd, and the theme for the 2019 conference was The Time is Now: Enhanced Care with Digital Health Technologies. This event invited students, professors, nurses, physicians, informaticists, and other professionals within the health care industry to a day of conversation and learning on the campus of USI.
This year's conference was composed of presentations from both guest speakers and Health Informatics and Information Management students from the University of Southern Indiana, as well as discussions from guest speakers. The goals and outcomes of this conference were to prepare health professionals to implement effective health informatics strategies in their personal practice as well as their organization. By doing this, it can result in better patient outcomes. The audience will come together in order to share emerging trends in health care information technology and future projections in the health care field. 
It was my first year attending this conference, and I was more than eager to attend. I had spoken to a student who was in attendance for the 2018 HITS conference, and after hearing their experience, I was ready to learn. I had the honor of listening to two keynote speakers – both beginning and ending the conference.
To start, Kym Martin shared her moving, personal story about her personal health care journey in "It's All about the Why." She shared her "know thyself" philosophy with the audience about her past medical history and is continuing to pursue finding peace among the chaos that is health care. This eye-opening presentation set the tone for showing enhanced care through health informatics in the U.S health care system.
Following this keynote, there were concurrent sessions focusing on EMR's, cyber risk management, and text messaging in health care. After this session, there were student presentations that consisted of two student groups focusing on Augmented Reality in Healthcare and Health Informatics and Patient-Generated Health Data.
During the conference, USI had the honor of having a guest speaker all the way from Germany via teleconference. Ursula H. Hüebner and Toria Shaw shared how to Ignite Your Career with TIGER Initiative's Informatics Toolkit. This global initiative stands for, technology informatics guiding education reform. It includes representatives from 29 different countries with diverse professions in health care. Additionally, they shared how to leverage the TIGER eHealth Informatics Toolkit to advance informatics skills and knowledge in the health care field.
Following this phone conference, another concurrent session broke out focusing on telehealth, cybersecurity legal issues, and text messaging transmission of Personal Health Information (PHI). The concurrent session I was able to attend focused on the cybersecurity legal issues, but speaker Ammon Fillmore put an interesting spin on the topic. He recognized the responsibilities and liabilities on accessing, using, or storing sensitive information through a discussion on legal issues in cybersecurity, and compared topics to that of Dante's Inferno. He also provided a practical guide to successfully navigating through these issues.
As sessions concluded for the day-long conference, the second keynote speaker, Ross Martin, closed with his presentation "It's All About Flow." This session showed that optimizing healthcare is about bettering the flow of ideas in order to make things better. He combines stories from his work, life, and art with music to tackle this subject and talk about the importance of "flowetry." And once this flow is implemented, it has the ability to transform health care. Martin also performed for the first time ever his original song, "Put the Patient First." This song focused on the issues in health care that lie within the system with greed and money rather than helping and curing patients.
There were many Health Informatics and Information Management students that had presented and attended the conference . Three students shared their experiences of the conference and what they would take with them to their future careers. I can say on behalf of all HIIM students of USI, we thank Gabriela Mustata Wilson and Tanner Watkins for their hard work and determination to make the program and conference as amazing as it has been.
"2019 was the first year for my attendance of the HITS conference & what a great conference it was! The opening speaker Kym (Martin) was great and her story on how she took control over her own healthcare made me really think about my future in healthcare. It is so important to really listen to the patient and good her for sticking up for herself. Because of that, she saved her own life.  As the rest of the day went on I felt like I got a better understanding of what my future is going to be like and it made me very excited." – Kaylea Torr
"I really enjoyed the mini break-out sessions after the keynote speaker. I expected to learn more about cybersecurity in healthcare, but I was surprised to learn how healthcare professionals use cellphones to communicate with each other during the day and how much HIPAA is involved." -  Savannah Patterson
"My first HITS conference was a success. I discovered more about the career path I would enjoy the most. I was able to learn first-hand about the different aspects of Health Informatics."- Kenzie Smith
Health Informatics Conference to Address Emerging Tech Trends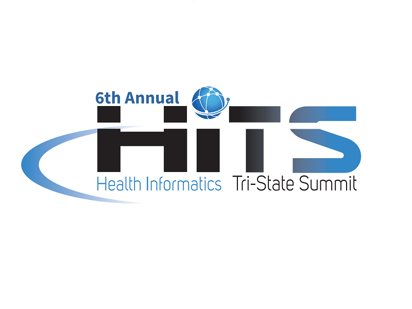 October 7, 2019 | By Tanner Watkins
A ground-breaking conference covering various aspects of health informatics will be held at the University of Southern Indiana from 8 a.m. until 4:30 p.m. Wednesday, October 23 in the University Center. The sixth annual Health Informatics Tri-State Summit (HITS) bring together some of the brightest and most impactful Health Informatics and Information Management professionals from across the United States, sharing their experiences and future projections in an insightful set of presentations for professionals of all ages. The one-day event will be particularly relevant, to physicians, nurses, pharmacists, technologists, and others whose scope of practice is related to health informatics, including students, who can attend at a reduced rate.
New for 2019, instead of having just one keynote speaker, HITS will feature Kym and Ross Martin who are returning to USI to lead this year's conference. They were keynote speakers in in 2016 (Kym) and 2017 (Ross).
Kym Martin hails from the greater Washington, D.C. area and received her bachelor of science in Business Administration degree from Bryant University and her Master of Business Administration degree from the University of Connecticut. She is a certified holistic nutrition consultant, fitness trainer and cancer survivor who is passionate about enhancing the patient experience in healthcare.
Dr. Ross Martin is a renowned international speaker and songwriter who closed the 2017 conference with a fun and high-energy keynote. He is the program director for Research and Transformation at CRISP, the regional health information exchange serving Maryland, the District of Columbia, West Virginia and the surrounding region. As an accomplished vocalist, musician and writer, Martin is also president and founder of The American College of Medical Informatimusicology.
"I have been speaking and writing about the transformation of healthcare through IT for more than 20 years, and Kym has been telling her story as a four-time cancer survivor as a keynote speaker since 2013," said Ross Martin. "This conference represents the first time we are both speaking at the same event, and we are so excited to be able to share our story as a couple making our way through the complexities of healthcare and this human experience. Kym will tell you about the WHY, and I will focus on the WAY!"
Kym Martin echoed these sentiments. "We have been talking about sharing our story as a dynamic duo for years and are thrilled to do so at HITS19. We hope our message humanizes the impact that people experience as they navigate our health system and catalyzes change," she said. "The event is a favorite of ours because of the stellar level of experts, attendees, engagement and content." 
The Health Informatics Tri-State Summit will feature additional speakers and poster presentations on a variety of topics related to health informatics technology, including cybersecurity and security challenges, telehealth's role in health informatics and patient portals.
For the first time, HITS will feature the CIO/CMIO Roundtable, a closed session focused on the local, regional and National Interoperability landscape and how to best prepare healthcare organizations to meet the needs of Tri-State residents, according to Dr. Gabriela Mustata Wilson, associate professor of Health Informatics and chair of USI's Health Informatics and Information Management Program.
"In the past few years, there has been an amplified focus on reducing health care costs and improving quality, which has driven the need for prompt and complete access to clinical information," she said. "Alliances need to be built, and conversations need to happen if we want to improve data exchange at all levels."
Mustata Wilson said the growth of the Health Informatics Tri-State Summit over the past six years would not have been possible without the support of the Indiana chapter of HIMSS. Ethel Massing, current president of the Indiana chapter, reinforces the importance of this event at the state level. "The Indiana Chapter of HIMSS has served as a co-provider of the Health Informatics Tri-State Summit since its launch in 2014," she said. "We are proud of how many of our members have shared their expertise in this setting or attended it over the years."
Collaboration and sharing of information is critical to patient care, according to Stephanie Hojan, president of the Kentucky Bluegrass HIMSS Chapter. "HITS 2019 is a great regional opportunity to connect with peers to listen to and discuss ideas for all of us to do better and be better," she said.
The registration fee is $125, $100 for HIMSS members and $20 for students, if registering by October 14, 2019.
Individuals interested in attending the event can still register by visiting this link, and all pertinent information regarding the conference can be found at the official website by clicking here.
---
USI HIIM Student Notebook: Savannah Patterson

October 2, 2019
It is no secret that in the USI Health Informatics and Information Management (HIIM) program,  students can earn opportunities to pursue career-developing ventures and experiences – all while they are still taking classes!
Most recently, Savannah Patterson (HIIM '20) joined the HIIM department chair, Dr. Gabriela Mustata Wilson on a trip to the Education Security Summit in Indianapolis, Indiana.  This inaugural summit was organized by the Indiana InfraGard chapter's School and Academic Safety Sector, and the duo presented an increasingly important topic before the members in attendance.
For those who do not know, InfraGard is a partnership between the FBI and members of the private sector. The InfraGard program provides a vehicle for seamless public-private collaboration with the government that expedites the timely exchange of information and promotes mutual learning opportunities relevant to the protection of critical infrastructure. 
To mark the occasion, we interviewed Savannah following her trip to the Circle City and got to hear her take on the experience.  Check it out!
What was your reaction when Dr. Mustata Wilson asked you to present with her at The Education Security Summit in Indianapolis?
I was honestly taken by surprise. I had never been asked to present at a conference before. I am very thankful for the opportunity to attend; it was very interesting to see the Indiana InfraGard chapter's efforts to educate its members on the School/Academic Safety topic.
What was the topic of your presentation, and how did you prepare for it?
Our section was titled, "Class is in Session: Improving Security Awareness in Education". We had a fireside chat about how students, educators and parents need to be aware of cybersecurity threats, and how educating on this topic early on could prevent these from happening. I read articles about the subject in preparation for this presentation, while also reflecting on my experience as a student and my background information on the topic. Dr. Wilson and I also had a few meetings to discuss how we were going to present (the material) and the topics we wanted to include. 
How did you hear about InfraGard and why were you interested in joining?
Dr. Wilson introduced me to InfraGard while (I was) enrolled in her course "Social Media Monitoring in Healthcare." The course really opened my mind to the cybersecurity threats that the healthcare industry faces daily. Being in the Health Informatics and Information Management program, I wanted to explore different aspects of potential careers, so I decided to apply to become an InfraGard member, and then joined Indiana chapter to learn more.
How do InfraGard activities relate to healthcare?
InfraGard tries to identify risks to the healthcare industry by monitoring reported cybersecurity threats and attacks to organizations, and how these threats can be reduced with safe practices. InfraGard offers multiple educational tools such as newsletters and webinars to educate members on the current news and trends in the cybersecurity realm - to make us more aware of risks the healthcare industry faces.
How was it to present in front of 60 people? Were you nervous?
I wasn't especially nervous. Dr. Wilson made me feel well prepared and at ease since we got to present together. I felt like I did a pretty decent job, and I am thankful for the experience to speak to that many people in a presentation setting.
How this experience proved to be beneficial to you as a student and for your future career?
It was beneficial to me as a student because I was able to present with someone well-versed and experienced (at) doing presentations, so I wasn't necessarily, "thrown to the wolves." If I had to present on my own in that setting, I probably would have been terrified since I was probably the most uncredentialed person in attendance.  This was definitely beneficial to my future career as I feel like I will be prepared to present on my own in that kind of setting.
What piece of advice would you give to HIIM students after having this opportunity?
Dr. Wilson always has your back no matter what and wants you to have the most experience possible. She is always looking out for her students, so if you were too nervous about asking for help or asking for advice from her, don't be! She has her student's success at the very forefront of her mind at all times and wants us all to have as many opportunities as possible to progress our future careers. And if she ever asks you to go present with her at a conference and you feel unsure, she'll make sure you're prepared with plenty of caffeine and talking points.
---
USI partners with U.S. National Health IT (NHIT) Week again in 2019!
U.S. National Health IT Week is September 23-27, 2019. The University of Southern Indiana, College of Nursing and Health Professions and the Health Informatics and Information Management Program are partners of the nationwide action week focused on catalyzing change within the U.S. health system through the application of information and technology. There is no better time for the health IT community to come together and take action to transform health in the U.S. and around the globe.
For more information, please visit http://www.healthitweek.org/ and get involved!  The USI HIIM program will be promoting the week via social media and there could perhaps be a special event coming soon... stay tuned!
---
Dr. Gabriela Mustata Wilson featured in "HIMSS Women

in Health IT" special profile, popular "DHC Podcast"
January 3, 2019
By: Tanner Watkins, with excerpt from HIMSS
To welcome students back from break, we have exciting news in the program!  Our fearless leader and department chair, Dr. Gabriela Mustata Wilson, was recently featured in a special series created by HIMSS - the Healthcare Information and Management Systems Society.  Dr. Mustata Wilson was interviewed as part of the HIMSS Women in Health IT series and provided insight on how to stay motivated, challenges faced in the industry, and even her favorite song - among other great tidbits!
Check out this excerpt of one of the questions asked to Dr. Mustata Wilson as a teaser:
What stepping stones have led to where you are and what advice do you have for others looking to follow a similar path?
"I have always treated my career as a series of stepping-stones and believed that with every single project I complete, contact I make or every role I take, it is an opportunity to enhance my skills and experience. My advice to others is to take on roles to develop skills, be open and seize career-making opportunities as they occur rather than sticking rigidly to a mapped-out career. I would also recommend finding mentors to guide you at each stage of your career."
You can find the full feature by visiting this link, and the full series of Women in Health IT by visiting this link.
But that is not all!  Dr. Mustata Wilson also joined Bryan Messersmith of the Digital Healthcare Podcast for an inspiring and uplifting interview about advice that she frequently gives students.  At the moment of this writing, the podcast already has over 1,000 views and serves as a great tool for students to listen to as they juggle school and profession.
The podcast is available on a variety of platforms, including iTunes, Soundcloud, YouTube and LinkedIn!
Check out Bryan's LinkedIn post below where the video of the interview can be found.