Center for Healthy Aging and Wellness
Southwest Indiana Area Health Education Center (SWI-AHEC)
Symposium on Homelessness
The process of community planning to end homelessness began in Vanderburgh County in 2004. A 10-year plan to end homelessness, Destination Home, was developed in 2004 and updated in May 2013. One of the recommendations that emerged from the replanning process was the need to increase community awareness about homelessness.
As a result the USI Symposium on Homelessness was launched in 2013. "In addition to raising awareness in the community, we also want to educate students at USI about the needs of this group of people they most likely will encounter in their careers as teachers, doctors, nurses, social workers, etc.," said Julie St. Clair, clinical assistant professor of nursing. "Knowing something about the challenges homeless men and women face every day will help our students know how to best care for them."
The event is held annually during the Spring semester, and attendance is limited to students in specific senior level courses and invited community agency representatives.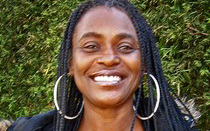 Highlights from a previous USI Symposium on Homelessness: View a video of Terri "Detroit" Hughes speaking on her experience with homelessness during her presentation in Carter Hall.