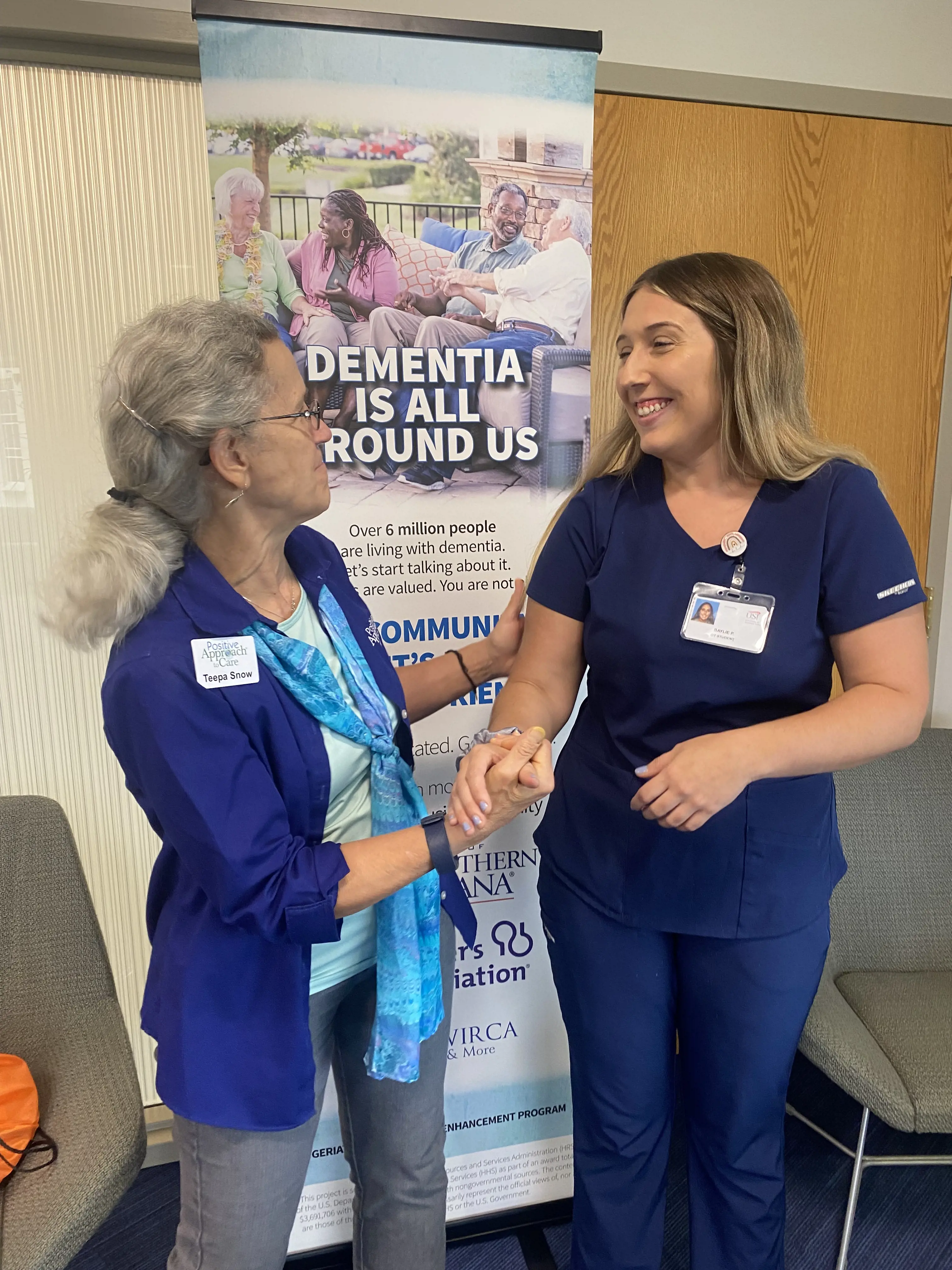 Teepa Snow is one of the leading educators on dementia and the care that accompanies it, in the US and Canada. As an occupational therapist with 40 years of clinical practice, she has founded a company and an approach to support and engage people experiencing changes in brain function. This Positive Approach®to Care emphasizes making use of the skills retained while providing support, and substituting our skill, for what is no longer available. This belief led to Teepa creating the GEMS® States model for brain change. The GEMS model compares people to gemstones and focuses on retained abilities in order for us to see what is beautiful, and still available, for the person with whom we share time and offer support and care.
Her company, Positive Approach® to Care (PAC), provides training, services, and products around the world. She has successfully integrated her education and extremely varied work experiences, recent medical and international research, and first-hand care support and provision background into a program that guides others in effectively working with people living with neurocognitive degeneration. Using this word is an example of how Teepa takes what is the norm in the culture of dementia care and works to change it.
Originally from West Virginia and western Pennsylvania, Teepa now lives outside Chapel Hill, North Carolina. She is a graduate of Duke University with a degree in Zoology. She then received her MS degree from the University of North Carolina in Chapel Hill. She has a wealth of clinical, teaching, and research experiences that have informed and influenced her philosophy, approach, and practice. Teepa has worked as part of Duke University Medical Center's Neuro-Rehabilitation Team, UNC-CH's Geriatric Clinic, an OT director in a head injury facility, a clinical specialist in geriatrics for a Veteran's Administration Medical Center, and a therapist and restorative care coordinator for long term care facilities. Her hands-on caregiving experiences include providing direct care in community and wellness centers, day programming sites, home care settings, assisted living and CCRC communities, long term care facilities, out-patient clinics, hospitals, hospice, and rehabilitation settings.
Teepa currently has clinical appointments with Duke University's School of Nursing and UNC-Chapel Hill's School of Medicine. Previously, she served as the Director of Education and Lead Trainer for the Eastern N.C. Chapter of the Alzheimer's Association, as the Program Director of Durham Technical Community College's OTA program, as an interdisciplinary team member and clinical associate professor at UNC-CH School of Medicine's Program on Aging, and as a coordinator and care manager for CAP Medicaid waiver services in North Carolina. She has served in a wide variety of leadership and advisory positions in professional organizations at both state and national levels, including the Alzheimer's Association, Alzheimer's Foundation of America, AOTA, and NBCOT.
She's currently working on a number of national and international projects and with organizations. She is on the board of the US Dementia Action Alliance and the Alzheimers Support Network in Naples, Florida.