2019 Health Informatics Tri-State Summit (HITS)
Health Informatics Conference to Address Emerging Tech Trends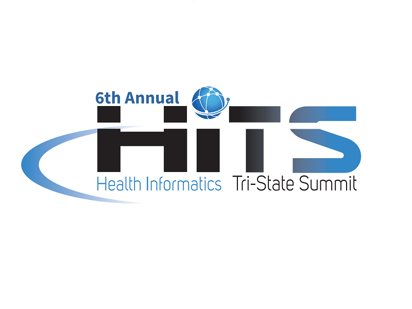 October 7, 2019 | By Tanner Watkins
A ground-breaking conference covering various aspects of health informatics will be held at the University of Southern Indiana from 8 a.m. until 4:30 p.m. Wednesday, October 23 in the University Center. The sixth annual Health Informatics Tri-State Summit (HITS) bring together some of the brightest and most impactful Health Informatics and Information Management professionals from across the United States, sharing their experiences and future projections in an insightful set of presentations for professionals of all ages. The one-day event will be particularly relevant, to physicians, nurses, pharmacists, technologists, and others whose scope of practice is related to health informatics, including students, who can attend at a reduced rate.
New for 2019, instead of having just one keynote speaker, HITS will feature Kym and Ross Martin who are returning to USI to lead this year's conference. They were keynote speakers in in 2016 (Kym) and 2017 (Ross).
Kym Martin hails from the greater Washington, D.C. area and received her bachelor of science in Business Administration degree from Bryant University and her Master of Business Administration degree from the University of Connecticut. She is a certified holistic nutrition consultant, fitness trainer and cancer survivor who is passionate about enhancing the patient experience in healthcare.
Dr. Ross Martin is a renowned international speaker and songwriter who closed the 2017 conference with a fun and high-energy keynote. He is the program director for Research and Transformation at CRISP, the regional health information exchange serving Maryland, the District of Columbia, West Virginia and the surrounding region. As an accomplished vocalist, musician and writer, Martin is also president and founder of The American College of Medical Informatimusicology.
"I have been speaking and writing about the transformation of healthcare through IT for more than 20 years, and Kym has been telling her story as a four-time cancer survivor as a keynote speaker since 2013," said Ross Martin. "This conference represents the first time we are both speaking at the same event, and we are so excited to be able to share our story as a couple making our way through the complexities of healthcare and this human experience. Kym will tell you about the WHY, and I will focus on the WAY!"
Kym Martin echoed these sentiments. "We have been talking about sharing our story as a dynamic duo for years and are thrilled to do so at HITS19. We hope our message humanizes the impact that people experience as they navigate our health system and catalyzes change," she said. "The event is a favorite of ours because of the stellar level of experts, attendees, engagement and content." 
The Health Informatics Tri-State Summit will feature additional speakers and poster presentations on a variety of topics related to health informatics technology, including cybersecurity and security challenges, telehealth's role in health informatics and patient portals.
For the first time, HITS will feature the CIO/CMIO Roundtable, a closed session focused on the local, regional and National Interoperability landscape and how to best prepare healthcare organizations to meet the needs of Tri-State residents, according to Dr. Gabriela Mustata Wilson, associate professor of Health Informatics and chair of USI's Health Informatics and Information Management Program.
"In the past few years, there has been an amplified focus on reducing health care costs and improving quality, which has driven the need for prompt and complete access to clinical information," she said. "Alliances need to be built, and conversations need to happen if we want to improve data exchange at all levels."
Mustata Wilson said the growth of the Health Informatics Tri-State Summit over the past six years would not have been possible without the support of the Indiana chapter of HIMSS. Ethel Massing, current president of the Indiana chapter, reinforces the importance of this event at the state level. "The Indiana Chapter of HIMSS has served as a co-provider of the Health Informatics Tri-State Summit since its launch in 2014," she said. "We are proud of how many of our members have shared their expertise in this setting or attended it over the years."
Collaboration and sharing of information is critical to patient care, according to Stephanie Hojan, president of the Kentucky Bluegrass HIMSS Chapter. "HITS 2019 is a great regional opportunity to connect with peers to listen to and discuss ideas for all of us to do better and be better," she said.
The registration fee is $125, $100 for HIMSS members and $20 for students, if registering by October 14, 2019.
Individuals interested in attending the event can still register by visiting this link, and all pertinent information regarding the conference can be found at the official website by clicking here.