The Office of Government Relations represents the interests of the University to elected officials and the legislature at the local, state and federal levels. The Office also is responsible for interacting with local, state and federal agencies and offices concerning issues of importance to the University. The Office provides leadership for the formulation and development of the University's operating and capital biennial budget requests and monitors legislation for potential impact on the University.
We hope you find this site useful in staying informed about legislative issues and in helping you connect with elected officials at the local, state or federal level. In addition to legislative updates provided on this site, you will find links to local units of government, the Indiana General Assembly, the United States Congress and other state and federal government agencies.
We are interested in your questions, comments and feedback to our site. Contact us in WA 102B in the Wright Administration Building by calling 812-464-1774, or email Government Relations.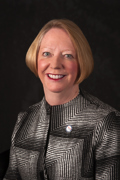 Ms. Cynthia Brinker
Senior Vice President of Government Relations Contact: 812-464-1774
Byron C. Wright Administration Building 102
Email:
cbrinker