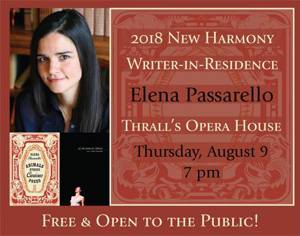 The New Harmony Writer's Residency will host a reading featuring 2018 New Harmony Writer-in-Residence Elena Passarello at 7 p.m. on Thursday, August 9. The event will take place at Thrall's Opera House in New Harmony, Indiana. This event is free and open to the public.
Passarello is an actor, a writer, and the recipient of a 2015 Whiting Award. Her second essay collection with Sarabande Books, Animals Strike Curious Poses, was named a Notable Book of 2017 by The New York Times Book Review, and her first, Let Me Clear My Throat, won the gold medal for non-fiction at the 2013 Independent Publisher Awards. Her essays on performance, pop culture, and the natural world have been published in the Oxford American, Creative Nonfiction, and The Iowa Review, among others. Passarello lives in Corvallis, Oregon, and teaches at Oregon State University.
This event is made possible through the support of the University of Southern Indiana College of Liberal Arts, the Robert Lee Blaffer Foundation, the USI Foundation, and the USI Society for Arts and Humanities. For more information, contact Ron Mitchell, editor of Southern Indiana Review and SIR Press, at 812-461-5202 or rmitchel@usi.edu.