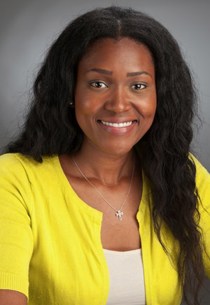 Helping under-represented, vulnerable student populations is a passion for Xavia Harrington, instructor in English. She has given keynote speeches and lectures about barriers faced in academia by various vulnerable student groups, including English language learners, gender non-conforming, students of color, LGBT students, first generation college students and those coming from low socioeconomic backgrounds.
Along with teaching four courses at USI, she is currently finishing her dissertation toward a doctorate in education with an emphasis in social justice in higher education from Bellarmine University in Louisville. The emphasis in social justice was crucial for Harrington, who wants to continue to be a strong advocate and voice for students' rights.
"Students look to us as  gatekeepers between the life they're living and the life they want to have," said Harrington. "Sometimes we forget to think about all the nuances that may make our students vulnerable. An extra five minutes spent getting to know a student can reverberate through that student's life and help keep him/her on track to academic success."
"USI events are a great way for faculty, staff and other students to learn about these populations and their plight." Students need to know that even though they may or may not have a family in Evansville, USI provides them with the family structure they need," said Harrington.
Harrington will serve as the keynote speaker for this year's Black and Brown Summit of Excellence, where she will speak about vulnerable student groups, their challenges, retention and success.
The event is not open to the public, however students can register online to attend the Black and Brown Summit of Excellence. Dinner and breakout sessions for students will follow with a variety of topics including health disparities among women of color, substance abuse, internships and networking, dress codes, Greek life and more. Doors open at 3:30 p.m. with opening remarks starting at 4 p.m.
Faculty and staff may attend Harrington's keynote speech starting at approximately 4:30 p.m. Friday, September 22 in Carter Hall in University Center West. No registration is required for faculty and staff.