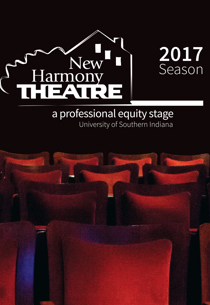 New Harmony Theatre continues its 30th season this summer with Ruthless! by Joel Paley and music by Marvin Laird. The play runs July 14-16 and July 21-23 at Murphy Auditorium in historic New Harmony, Indiana.
Third-grader Tina Denmark has Broadway ambitions, but you'll find she's no Shirley Temple when your back is turned! This musical parody of 1950s movies offers outrageous humor in place of the suspense and melodrama we found in the films it recalls. Movie lovers will enjoy spotting the references to the old films we used to watch late at night on our 19 inch black and white sets. Be aware that this one leans a little toward the "13" in PG-13, but it's all in good fun.
New Harmony's artistic director, Elliot Wasserman, has enlisted the aid of New Harmony veteran actors Kenney Green, Ashleigh Dulik, and Jackey Good, as well as newcomers to the stage Mary McNulty, Carole Schweid and local actor LillyBea Ireland. They will be joined by a design team including USI faculty members Paul Weimer as scenic designer, Eric Cope as lighting designer, and Shan Jensen as costume designer; USI staff members Kevin Gray as sound designer and Andy Hammond as tech director; and Actors Equity Stage Manager Erin Joy Swank and Actors Equity Assistant Stage Manager Margaret Kayes.
Single tickets are $30 for an adult, $28 for seniors age 60+, $10 for ages 25 and under, and $24 for USI employees. Season package tickets are also available. Shows start at 7:30 p.m. on Friday nights, 2 and 7:30 p.m. on Saturdays, and a 2 p.m. matinee on Sundays. To purchase tickets, or for more information, visit USI.edu/nht or call the box office at 812-465-1668. Follow on Facebook at New Harmony Theatre for updates and photos.
The final show this season will be the heart-warming story Souvenir, also a comedy, and featuring Evansville native Paula Leggett Chase. Tickets are on sale now.
New Harmony Theatre is a program of the University of Southern Indiana that provides a unique cultural resource within Southwestern Indiana and the Tri-State region. The theatre, which is part of the Actors' Equity Association, has grown in prominence to become a major regional theatre that attracts the best professional theatre artists from all over the country including many Broadway veterans. The theatre also provides educational opportunities and training for students of the University of Southern Indiana and residents of the region. Murphy Auditorium was built in 1914 and is the main stage for the current program.