Art exhibition to feature collegiate art faculties from across the Tri-State
Art exhibition to feature collegiate art faculties from across the Tri-State
7/14/2017 |
University Communications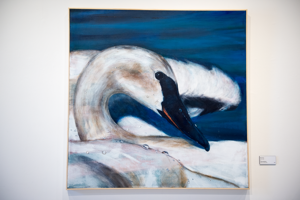 The University of Southern Indiana McCutchan Art Center/Pace Galleries will display 100 Miles: Art by Regional Collegiate Art Faculties through September 10, 2017. A closing reception for the participating artists and designers will be held at 2 p.m. Sunday, September 10. The reception is free and open to the public.
The exhibit celebrates the creativity of art and design professors in the Tri-State area. Over 75 art and design works by 43 teachers from 12 colleges and universities within a 100-mile radius of the USI campus are included in the exhibit. 
The schools represented are:
Brescia University, Owensboro, Kentucky
Henderson Community College, Henderson, Kentucky
Ivy Tech Community College Southwest, Evansville, Indiana
Kentucky Wesleyan College, Owensboro, Kentucky
Oakland City University, Oakland City, Indiana
Olney Central College, Olney, Illinois
Owensboro Community and Technical College, Owensboro, Kentucky
Rend Lake College, Ina, Illinois
Southeastern Illinois College, Harrisburg, Illinois
University of Evansville, Evansville, Indiana
University of Southern Indiana, Evansville, Indiana
Vincennes University, Vincennes, Indiana
The Kenneth P. McCutchan Art Center/Palmina F. and Stephen S. Pace Galleries is located in the lower level of the Liberal Arts Center on the USI campus. The gallery is open during the summer from 10 a.m. to 2 p.m. Monday through Friday, and 1 to 5 p.m. Sunday. Admission is free and open to the public. Visit USI.edu/liberal-arts/art-center-galleries for more information.