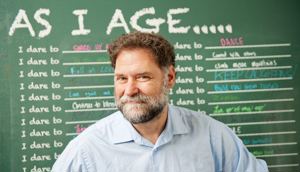 What if nearly everything you've been told about aging is wrong? A pioneering doctor will be visiting Evansville this August to shatter our culture's damaging myths about aging and offer a new way to think of growing older. Dr. Bill Thomas, touted as one of America's "top 10 innovators" by the Wall Street Journal, will be the opening keynote speaker for the 10th annual Mid-America Institute on Aging and Wellness (MAIA), planned for August 10 and 11, 2017, at the University of Southern Indiana.
Thomas wears many hats in addition to being a physician. He is also an author, entrepreneur, musician, teacher and farmer. When he first spoke at the MAIA conference back in 2011, he shared with us two of his health care system innovations: The Eden Alternative®, a global non-profit which works to improve the care provided to older people, and The GREEN HOUSE® Project, a radical approach to long-term care where traditional nursing homes are replaced with small, home-like environments where elders can live full and interactive lives.
In what promises to be a wildly exuberant keynote address on Thursday, August 10 at 8:30 a.m., Thomas will focus on age-inclusive thinking to overcome barriers to promote aging well and inspire generations to "live together and be together" on life's journey. In addition, he will also lead a concurrent session from 12:30-1:30 p.m. on designing "intentional communities" in traditional nursing homes.
This year, both morning keynotes – Dr. Bill Thomas' keynote on Thursday and Dr. Dean Hartley's keynote on Friday ­– are both open to the public at no cost, but reservations are required because seating is limited. Please register at USI.edu/maia and plan to arrive no later than 8:15 a.m. to be seated.
Dean M. Hartley, PhD, is the director of Science Initiatives at the Alzheimer's Association. He has a leadership role in the development of the Association's research and scientific initiatives and advances these efforts by effectively communicating the goals and achievements of the Alzheimer's Association science programs to a wide variety of audiences. His keynote on Friday, August 11 will give an update on current research and progress being made to find new diagnostics, treatments, cures and preventions, including potential drug candidates and lifestyles.
Additional plenary speakers are Faith Roberts, a nurse administrator/storyteller from Urbana, Illinois, and Dr. Neha Sangwan, an Internal Medicine physician from San Francisco, California, who combines the science of medicine with the art of communication. On Wednesday, August 9, renowned dementia care expert Teepa Snow is returning to USI to lead a pre-conference workshop for direct care providers centered on her Positive Approach® techniques and strategies.
This year's MAIA, sponsored by the USI and SWIRCA & More, also has a slate of new concurrent speakers and topics related to healthy aging, plus a few familiar faces that are returning by popular demand to celebrate our 10th annual conference.
This conference appeals to health care and social service professionals, health care administrators, clinicians, older adults or retirees, family members providing care for a loved one, students and anyone who wants to learn tips for leading a healthier life.
For more information and to register, visit USI.edu/maia. Early bird registration rates are available through July 30.