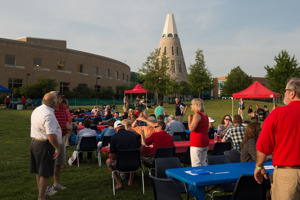 The University of Southern Indiana Alumni Association will host the third annual USI Party on The Quad from 6 to 10 p.m. Saturday, June 10 on the University's Quad, located in the center of campus. The event is open to USI alumni, employees, retirees, friends and USI students age 21 and older. Tickets are $10, which includes food, live music, activities and a commemorative beverage glass.
This year, guests will enjoy Asian cuisine, potato bar, salad bar and wraps, along with a cash bar. Both vegetarian and gluten-free options will be available as well.
Activities include a selfie photo booth, caricature portraits, cornhole and cornhole tournament, photo-ops with Archie and tours of campus. The Campus Store also will be open to stock up on USI logo wear. The event is rain or shine. In the case of rain, the event will be held at USI's Physical Activities Center.
"Party on The Quad is one of the Association's best opportunities to reconnect with each other and our university family including faculty and staff that alumni knew as students," said Janet Johnson, director of Alumni and Volunteer Services. "Each year our alumni are amazed when they come back and see the wonderful changes to campus. Party on the Quad is sure to be a great time. "
Featured music this year will be Calabash, a rock/jam band from Evansville, and Quinn DeVeaux, a blues/soul singer from Nashville. Calabash will play from 6 to 7 p.m., and DeVeaux will play from 7:30 to 10 p.m.
For more information contact Janet Johnson at jljohnson@usi.edu or 812-464-1924 or visit alumni.usi.edu/potq2017.