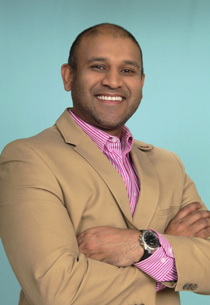 The University of Southern Indiana will hold a Commencement ceremony for undergraduate students in the Romain College of Business and Outreach and Engagement at 3 p.m. Saturday, April 29 in the Physical Activities Center (PAC) on the USI campus.
The 2017 Commencement speaker for the Romain College of Business and Outreach and Engagement ceremony is Nitin V. Naidu '00. He currently is the president and founder of Spice Box in Indianapolis, Indiana, and graduated from USI in 2000 with a bachelor's degree in business administration.
In 2012, Naidu created an award-winning food truck, Spice Box, in Indianapolis. The truck serves signature Indian fare and has been featured on the Food Network, Cooking Channel, and other television shows and publications including Top 10 Restaurants in Indianapolis 2014 and illume, the USI magazine. The first brick-and-mortar location opened in 2013 inside historic Indianapolis City Market, becoming the first Indian fast-casual restaurant in the city. A second location opened in 2015 in Fletcher Place, expanding the original concept featuring an array of Indian cuisine.
Naidu began his career as a private banker with U.S. Bank in Denver, Colorado, where he was a two-time MVP for National Sales Training, won two top-performing banker awards for exceeding annual sales goals, and was recognized among the top-performing bankers in the market for consistently exceeding goals for production and providing exceptional client service.
In 2007, he became a branch manager for JP Morgan Chase in Indianapolis where he was consistently ranked highest in the district by most sales metrics. Naidu became a wholesaler with the company in 2010 where he directed sales for 13 branches in Indianapolis through activities of 150 sales and operation associates and managers.
Active in the Indianapolis community, Naidu and his wife, Dr. Mo Naidu, are donors of the Annique Wilson Foundation and Keep Indianapolis Beautiful, Inc. He also serves on the board of directors for Dig In, an Indianapolis-based non-profit organization that focuses on improving and connecting local producers/agriculture with local restaurants.
Guests of the graduates will require a ticket to attend the ceremony. A reception for the graduates and their friends and families will follow the ceremony and will be held in University Center East.
Three other colleges at USI will conduct ceremonies on April 29 according to this schedule:
Pott College of Science, Engineering and Education, 9 a.m.
College of Nursing and Health Professions, noon
College of Liberal Arts, 6 p.m.
A commencement ceremony for graduate students will be held at 6:30 p.m. on Friday, April 28 in the PAC.
Live video of each ceremony will be streamed in University Center East Conference Center (Rooms 2217-2220). The ceremonies also may be viewed online at USI.edu/live-stream.