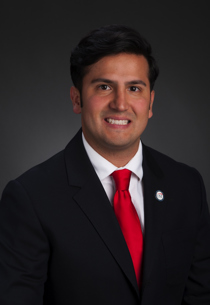 Carlos Caballero of Newburgh, Indiana, has received the 2017 Trustees Distinguished Merit Award, which recognizes outstanding achievement not only in the student's major, but also in the liberal arts and sciences that form the core curriculum. Each college at USI nominates one student for the honor, which includes a $2,000 award.
Caballero, a four-year member of the Honors Program, will receive his bachelor's degree in Health Services at the College of Nursing and Health Professions Spring Commencement ceremony on April 29, and is currently enrolled in USI's Master of Health Administration (MHA) 4+1 program. At USI, Caballero has been an ambassador for Academic Skills, an anatomy and physiology tutor and a Spanish tutor.
As a graduate assistant, Caballero has worked closely with Dr. Katie Ehlman and the Positive Approach® to Dementia Care in Southwest Indiana program, a collaboration between the USI and Teepa Snow's Positive Approach® to Care (PAC) funded by the Indiana State Department of Health. As a certified PAC trainer, Caballero is helping with education, research and data analysis to improve dementia caregiving in skilled nursing facilities around region.
"Carlos is dedicated to learning and making a difference in healthcare," said Dr. Ann White, dean of the College of Nursing and Health Professions. "I greatly appreciate the university recognizing his efforts. He is a leader among students and respected by both faculty and his classmates."
After completing the MHA program, which he expects to complete in Spring 2018, he plans to pursue a career in business operations and quality performance improvement and innovation in healthcare, with a long-term goal of becoming a hospital president.