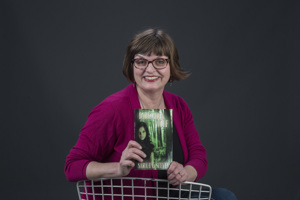 As most parents know, a teething infant can leave quite a mark when they clamp their little budding teeth into your flesh. But who knew an infant biting incident could serve as the inspiration for a book? Dr. Sarah Stevens, director of the Advising Center for the College of Nursing and Health Professions and adjunct professor in the College of Liberal Arts, used this real-life incident as a backdrop for her first published book Dark Moon Wolf.
Stevens has long been a lover of the fantastical and magical, and when her 4-month-old son gave her a nasty bite, she thought "Well, at least he's not a werewolf." The thought stuck with her and she began her first book in a three-part series. The story follows single mother, Julie Hall whose 4-month-old son turns into a werewolf. Perplexed by his condition, she seeks out his estranged father to solve the mystery. Along the way, she finds her and her son's life endangered.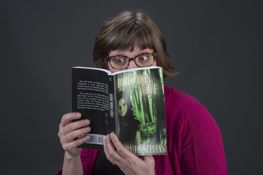 Stevens who teaches gender studies courses at USI, felt it was important for her lead character, Julie Hall, to be a strong, empowered woman ­– a protector. "Motherhood is a central theme throughout the book," said Stevens. "I wanted Julie to be a strong heroine, and for the story to centralize around her and not some mysterious, strong alpha werewolf."
Stevens grew up reading fantasy and sci-fi stories like The Lord of the Rings and The Chronicles of Narnia. Today she is writing her own fantasy books, and it is paying off. She received a three book deal with publisher Wild Rose Press.
Stevens said she wanted to take a different approach than what you typically find in werewolf stories, so the mechanisms for becoming a werewolf and the powers and abilities of the creatures are different. Her son who is now 10 years old enjoys hearing the story about how his teething mishap shaped his mother's story of a baby werewolf.
Stevens will hold a book signing from 11 a.m. to 1 p.m. Tuesday, April 4 at the USI Campus Store. Copies of Dark Moon Wolf will be available for purchase.