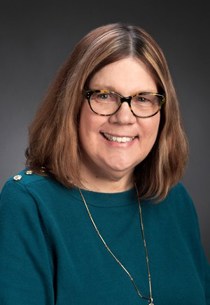 University of Southern Indiana Outreach and Engagement awarded the 2017 M. Edward Jones Engagement Award to Dr. Kathy Elpers, associate professor of Social Work, at the third annual Celebration of Engagement on March 16.
The award is given annually to an individual, group or project for excellence in leadership, commitment to quality, tireless service and dedication to lifelong learning in fulfilling the outreach missions of USI.
Elpers joined the University of Southern Indiana faculty in 1987 Since her arrival, Dr. Elpers has shared her gifts and talents within the community. From her work organizing the first field placements for social work students to her involvement with service learning projects for students in her classes, Dr. Elpers has maintained a passion for lifelong learning. 
"Kathy believes in service to her community and having an impact on filling gaps in services for people in her community," said one award nominator.
An advocate for Outreach and Engagement, Elpers has led several workshops, participated in many community boards and even created the inaugural Social Work Spring Festival still held annually through Outreach and Engagement.
Elpers received the Sidney Berger Award for community service in 2005. She has received the Social Worker of the Year Award once in 1991 and again in 2015. She also received the Sagamore of the Wabash and Kentucky Colonel recognition from the State of Indiana and Kentucky. Elpers has a bachelor's degree in psychology from St. Joseph's College, a master's degree in social work from Rutgers University and a doctorate in leadership education from Spaulding University.
The Celebration of Engagement is an annual event held to celebrate the University's community partnerships. This year's event featured talks by Dr. Linda L. M. Bennett, USI President, heads of Outreach and Engagement programs and a keynote address from Amy Word-Smith, CEO of Lamasco and Dapper Pig and founder of the Franklin Street Events Association.
For more information about the Celebration of Engagement and the M. Edward Jones Engagement Award, visit USI.edu/Celebration.