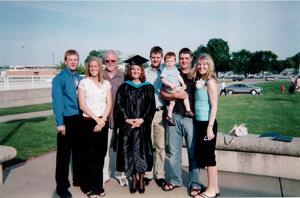 Being able to experience the campus as a student and as an employee makes you appreciate the many layers of the University. Being inspired by our caring and creative faculty, lights a passion in many, making them want to call USI "home." In this Elevating Spirit@USI series, we'll speak to USI alumni who have chosen to make their career at USI.
USI is home to a multitude of alumni who fell in love with the University as students, and decided to give back by working here. Many of us choose the University because of our love of education and a thirst for our own personal learning growth. Some of us started as students and became employees; others started as employees and became students as well. Either way, the University nourishes a need in us, just as we play our role in propelling the University in new and exciting directions.
Janet Johnson's role as director of Alumni and Volunteer Services gives her an especially unique perspective. She can view the University from three perspectives due to her own personal relationship with it: employee, student and alumna. In her professional career, she uses this experience to nurture those same connections in the USI community.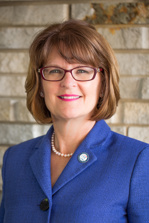 Johnson began as an administrative assistant in Human Resources in 2000. The second oldest of five children, she was the first in her family to earn a college degree and did so during the same year her oldest daughter graduated from high school. In 2005, she crossed the Commencement stage as one of three of the first graduates of the newly established Master's in Public Administration program. During the same time she was receiving her MPA diploma, her oldest son was receiving his bachelor's diploma. As a full-time working mother of four, Johnson demonstrated her heartfelt commitment to family as well as education and lifelong learning.
She also climbed the professional ladder becoming career coordinator in Career Services and Internships, then assistant director in Career Services and Internships and ultimately, director of Alumni and Volunteer Services. During her time with Career Services and Internships, she enjoyed working with students. "I loved that I was able to make a difference and help students develop professionally," she said. "You're filling the gap they don't get with academics through career coaching, internships and mentoring programs."
Accepting the position of director in Alumni and Volunteer Services broadened her scope and met her natural ambition to accept new and greater challenges. As director, not only does she have the opportunity to work with students, but also the growing community of USI alumni.
One of the most crucial functions of Alumni and Volunteer Services is fostering connections between current students, USI alumni and the entire USI community. Approximately forty events and programs designed to engage constituents and build meaningful relationships are carried out annually. Each event and program strategically contributes to the overall success of the University by engendering greater levels of alumni support and commitment.
Perhaps one such program is the Career Mentor Program.  "It's important to form bonds between alumni and current students," said Johnson. "It adds to that USI family feeling and it adds an important component to professional development. I'm always looking for ways to grow and sustain the mentoring programs because those are lifelong connections."
What does Elevating Spirit@USI mean to Johnson? "Educating, informing and understanding the positive impact we have on our region, our state, in all fifty states and 42 other countries throughout the world. Look at the amazing things our alumni are doing. Our alumni have such a strong impact, and it would be difficult to talk about anything in this region that USI or USI alumni haven't been involved in."