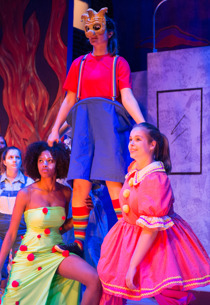 The University of Southern Indiana Theatre production of Mr. Burns, a post-electric play has been selected as one of the Participating Productions for the 2017 Kennedy Center American College Theater Festival (KCACTF), Region III in Indianapolis.
Approximately 40 USI students, professors and staff members will travel to put on the production, which will close the festival on Saturday, January 14 in Clowes Hall located on the campus of Butler University.
"It is always exciting to be invited to perform at the Region III Kennedy Center American College Theater Festival, but we are especially proud this year to be given the special honor of being the final performance of the festival," said Eric Altheide, USI assistant professor of acting and production director.
This will be the fourth USI Theatre production to present at the KCACTF, and the first to close the festival. In past years, students have won individual awards theatrical design in costuming and lighting and progressed to the national festival competition.
"This recognition is evidence of the hard work of the faculty and students to bring this thought-provoking and timely play to life and is a testament to the continued growth of our program," said Altheide. "We thank the University, and especially the USI Foundation for their support, which made this opportunity a possibility."
For more information about the festival, visit www.kcactf3.org. Tickets for the upcoming USI Theatre production of Crumbs from the Table of Joy in February are on sale now. To purchase tickets or for more information, visit USI.edu/theatre or call the box office at 812-465-1668.