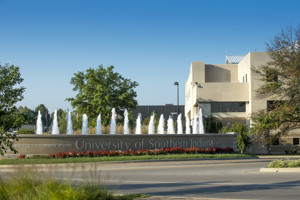 The University of Southern Indiana's online Master of Science in Nursing (MSN) program, offered through the College of Nursing and Health Professions, has been ranked 21st in the nation by U. S. News and World Report as part of its Best Online Programs rankings releases on January 10.
"We are elated to see the rankings for our online graduate nursing program continue to climb," said Dr. Ann White, dean of the College of Nursing and Health Professions. "Rankings like this put us in the company of some of the best schools in the country and showcase the high caliber and hard work of our faculty and students."
In addition to the overall ranking, the program was ranked 16th in the nation for faculty credentials and training.
Graduates of USI's online MSN program are able to integrate critical thinking, independent judgment, provide leadership, synthesize knowledge and promote the essential values of caring in their professional and personal lives.
USI's online MSN degree offers specialty areas for:
Adult-Gerontology Primary Care Nurse Practitioner (AGNR)
Adult-Gerontology Acute Care NP
Adult-Gerontology Clinical Nurse Specialist (AGCNS)
Family Nurse Practitioner (FNP)
Psychiatric Mental Health Nurse Practitioner (PMH)
Nursing Education (NED)
Nursing Management and Leadership (NML)
The College of Nursing and Health Professions also offers online courses toward a Doctor of Nursing Practice (DNP) degree with two areas of study concentration: advanced practice and systems and organizational leadership. The practice- focused doctorate prepares experts in advanced nursing with emphasis placed on innovative, evidence-based practice that reflects the application of credible research findings.
The master's degree in nursing and the Doctor of Nursing Practice at the University of Southern Indiana are accredited by the Commission on Collegiate Nursing Education.