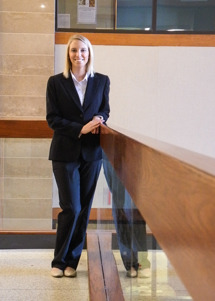 Many of us can remember how tight money can be as a college student, but prospective employers expect their interviewees to look sharp and dress well. Career Services and Internships is asking you to help them by donating interview-appropriate attire for students. Working with students who are Career Service Ambassadors, they've started a new initiative called Career Clothes Closet and hope to have a nice selection for students to choose from by mid-January. On January 18, USI students will be introduced to the Career Clothes Closet with a fashion show, including a spoof of the TV show, What Not to Wear.
Julie Brauser, assistant director of Career Services and Internships, said the beginning goal is to have clothes ready before the Career Fair in February. However, donations will continue to be accepted on an ongoing basis, so students can drop in prior to an interview. They are looking for suitable attire that includes conservative colors like black, navy blue, gray and brown; no polos or t-shirts.
"We want to educate students on what is appropriate to wear in a professional setting," said Brauser. "It's our mission to make sure they have the tools to interview effectively."
For more information contact Julie Brauser at jbrauser@usi.edu or 812-464-1865.