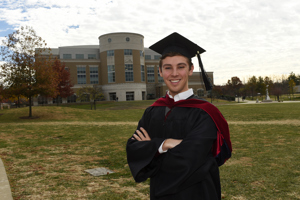 Caylin Blockley, assistant director of Alumni and Volunteer Services, has done his due diligence, writing research papers, taking exams and absorbing theories. Now he's making his final lap toward attaining his master's degree in communication.
Blockley received his bachelor's degree in public relations and advertising from USI in 2013. After applying and being offered a job in the USI Foundation Office, he got the itch to continue his education, and set his sights on a master's degree.
Juggling a full-time job and taking graduate level courses is no easy task. "You've got to have a plan and stick to it," said Blockley. "I'm hard on myself, but you can't get through this process without feeling a little pride in yourself. I learned I can handle it when things get tough. I work well under pressure." It's also a powerful motivation when you have people cheering you on. He has received encouragement from his parents, classmates, supervisor and other USI colleagues. "People at USI are encouraging, and it's nice to they're concerned with your success," he said.
Janet Johnson, director of Alumni and Volunteer Services and Blockley's supervisor, now that he's taken a new position in that office, understood the challenge, having completed her master's degree at USI as well, and has been supportive. "Caylin has shown great diligence in the pursuit of his master's degree," she said. "His early professional success is reflective of his incredible work ethic and his commitment to lifelong learning. Caylin simply approaches life with enthusiasm and a desire to be a positive influence in the University community."
Blockley is keeping an open mind. "I don't have tunnel vision on my future," he said. "If you ask me what my five- or 10-year plan is, I don't know. I do know I'd like to continue to work for meaningful change on something I love." He also wants to teach public speaking. "That was my goal and the overarching theme that got me through – my desire to teach someday."
What will he do with all of his vast amounts of free time? "I'm looking forward to leisure reading," he said. "I hate seeing all the books at my house that haven't been touched, so I definitely have a list ready to go for Christmas break." He also looks forward to more time with friends and loved ones, including his adorable little beagle, Cooper. And while he plans to take at least a semester off, he hasn't ruled out taking classes in the future. His has his eye on French classes, history and maybe even sailing. "I think that's why half of us work here, because we like to be in an area where learning is happening," he said. "Continuing education – we do it because we love it."