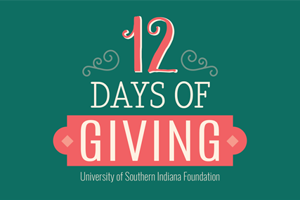 During this holiday season, we invite you to join us for 12 Days of Giving to support our students, enhance our programs and enrich our University.

Beginning Monday, December 12 and ending Friday, December 23, the USI Foundation will feature an area of need each day on the USI Foundation Facebook page. 

In addition to your gifts, we ask that you share your USI giving stories and experiences with friends and family on social media to encourage their participation in the giving spirit this holiday season. We also ask that social media administrators share Foundation's daily Facebook posts, especially on the days that feature your area. 
The University of Southern Indiana is thankful for you, our alumni, friends and the USI family, who support students and the transformative value of higher education. Your gifts continue to shape the future and growth of our University.

Place your secure online gift at www.usi.edu/giving/onlinegiving.

Residents of Indiana who make charitable gifts of up to $200 on a single return or $400 on a joint return are allowed a state tax credit up to $100 and $200, respectively.
Day 1: December 12
Here & Now Fund
Day 2: December 13
Athletics
Day 3: December 14
College of Nursing and Health Professions
Day 4: December 15
College of Liberal Arts
Day 5: December 16
Pott College of Science, Engineering, and Education
Day 6: December 17
Romain College of Business
Day 7: December 18
Presidential Scholarships
Day 8: December 19
B/MD Scholarships
Day 9: December 20
Outreach & Engagement
Day 10: December 21
Friends of David L. Rice Library
Day 11:   December 22
Society for Arts & Humanities
Day 12: December 23
Here & Now Fund
Written by Taylor Gogel