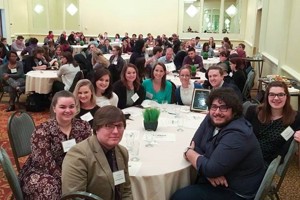 The University of Southern Indiana's independent student newspaper, The Shield, has been named a finalist for the Newspaper Pacemaker award by the Associated Collegiate Press (ACP), the highest honor in collegiate journalism.
"This is the first national recognition for The Shield in its 48-year history," said Erin Gibson, USI instructor of journalism and The Shield's advisor. "The Shield has been working to elevate its product and its significance, and I've watched all these staffs come together and make improvements one year to the next, building on the shoulders of those who preceded them."
Judges selected 30 finalists from 155 total entries for the award in August. Of the 30 finalists, only The Shield and Indiana University's Indiana Daily Student are from the state of Indiana. All finalists will be judged together, and award winners will be announced at the National College Media Convention on October 20-23 in Washington, D.C. The Shield will be represented by Sarah Loesch, editor-in-chief, along with Gibson and Jessica Stallings, visual editor.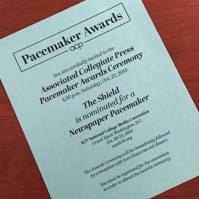 Additionally, Morgan Falconer '16 was named a finalist for the ACP's 2016 Cartooning Awards for a comic strip that was featured in The Shield. Falconer is the first individual finalist for an ACP award in The Shield's history.
"Our staff really stretched itself to try new things and provide thorough coverage for the University in ways it never had before," said Bobby Shipman '16, 2015-16 Shield editor-in-chief.  "Being named a Pacemaker finalist shows me that it did not go unnoticed by others. Everyone is looking forward to October when the results are announced," added Loesch.
In April, The Shield was named the Division II Newspaper of the Year by the Indiana Collegiate Press Association and received a total of 54 individual and staff awards, including 17 first place awards.
For more information about The Shield, visit their website at USIshield.com.