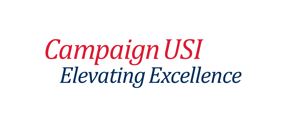 Just three years after the public launch of the University of Southern Indiana Foundation's $50 million Campaign USI: Elevating Excellence, the Foundation and the University are celebrating its success.
Campaign USI: Elevating Excellence officially came to a close at the end of June, with total gift commitments reaching $57.1 million—$7.1 million over the campaign's $50 million goal. On July 22, a campaign celebration was hosted on the USI campus to thank all those who contributed.
"The tremendous success of Campaign USI: Elevating Excellence is another example of the University's history of delivering results," said Dr. Linda L. M. Bennett, USI president. "Hundreds of alumni and friends made gift commitments as an investment in the civic, cultural and economic well-being of all the communities we serve. Now, in our 51st year of operation, we remain committed to ensuring and expanding an excellent, affordable and accessible education. We are profoundly grateful for their investment."
Approximately 982 individuals made specific campaign gifts, with an additional 6,192 making gifts to the Foundation's annual programs—a total of 7,174 gifts.
"So many community leaders, businesses, alumni and friends have stepped up to make this effort a resounding success," said Ron Romain, an Evansville native who served as chair of the campaign and is a University trustee. "Their investment will help USI students and faculty for decades to come. This campaign has helped raise the visibility and reputation of this institution and has elevated, deepened and enriched the experience of our students." Ron, a 1973 graduate of the University, and his wife Connie Romain, a 1974 graduate, made a leadership gift, the announcement of which kicked off the public phase of the campaign and, subsequently, led to the naming of the Romain College of Business.
The Foundation reached the $50 million dollar goal for Campaign USI: Elevating Excellence one year early on July 24, 2015, with the announcement of a leadership gift from D. Keith Jewell, president of St. Mary's Health. Jewell earned his undergraduate degree from USI in 1986 and his master's in 1991.
In May, the University held a ribbon cutting for the Griffin Center, a 14,000-foot meeting and conference space named in honor of the Robert E. Griffin family, whose leadership gift to the campaign provided funding for construction. An additional leadership gift from University friends Dan and Janet (Hahn) Fuquay will make possible the 6,000-square-foot Fuquay Welcome Center, for which the University will hold a ground breaking on September 1.
To date, Campaign USI Elevating Excellence has produced 132 new scholarships totaling $15.5 million including scholarships for student athletes.
Generous donors also are making possible over $1 million for faculty engagement fellowships and professorships to help faculty in their professional development.
"We do not celebrate because of the $57.1 million that generous friends and alumni have committed, rather we take pride that the work of our hands these past years has made possible those dollars in order to make a difference in the lives of our students and our faculty. There is nothing more life-changing than education," said David A. Bower, president of the USI Foundation.
For more information about Campaign USI: Elevating Excellence and the specific campaign goals, visit USI.edu/campaign or contact David A. Bower at bower@usi.edu or 812-464-1918.