Support Wannemuehler for top Elite 89 award
Support Wannemuehler for top Elite 89 award
7/7/2014 |
University Communications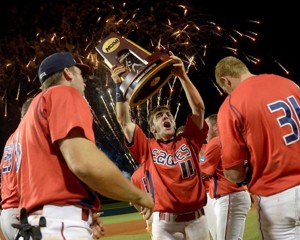 University of Southern Indiana senior outfielder Brad Wannemuehler (Evansville, Indiana) needs the support of all Screaming Eagle fans to win the first-ever Elite 89 fan favorite of 2014. The Elite 89 award is presented to the student athlete with the highest cumulative GPA participating at the finals site for each of the NCAA's 89 championships. First round voting begins today. 
 
Eagle fans can vote for Wannemuehler until by 4 p.m. July 13, when the field is narrowed down to 30 semifinalists. Fans will cut the field down to 10 finalists the following week before the top Elite 89 winner is crowned on July 18.
 
Wannemuehler, who is the second USI student athlete to earn the honor, received his Elite 89 award at the NCAA Division II Baseball National Finals prior to the Eagles winning their second national championship.
 
The senior outfielder and 2013 Academic All-American graduated from USI last December with a bachelor's degree in accounting and professional services and currently is pursuing a master's degree in business administration (MBA).
 
Fans can cast their vote for Wannemuehler by following the link at NCAA.org.