Diana Nyad lives by her tenet, "You are never too old to chase your dreams." The 64-year-old endurance swimmer achieved her lifelong quest to swim from Cuba to Florida on her fifth attempt last year. The grueling 110-mile ocean swim took 53 hours, and she endured hundreds of jellyfish stings on her legs, arms and face. Nyad will bring her inspirational insights to the University of Southern Indiana's Mid-American Institute on Aging (MAIA), August 14 and 15.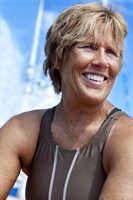 In July of 2010, at the age of 60, Nyad began her "Xtreme Dream" quest of swimming from Cuba to Florida, a task she had failed to finish 30 years previously. When asked her motivation, she replied, "Because I'd like to prove to the other 60-year-olds that it is never too late to start your dreams." Nyad was unsuccessful in 2010 and tried two more times in 2011 and 2012, before completing the historic swim on September 2, 2013.
"Diana Nyad has certainly inspired the world, so it is incredible that she will be sharing her story here on our campus," said Dr. Ann White, dean of the USI College of Nursing and Health Professions. "Her message of never giving up, despite whatever obstacles are in your path, will resonate with both young and old at our conference."
MAIA, co-sponsored by SWIRCA & More, is a two-day gerontology conference for health professionals and members of the community. There will be breakout sessions on a variety of topics related to healthy aging, including fitness and exercise, nutrition, identity theft and coping with illness.
In addition to Nyad, this year's MAIA will feature:
Teepa Snow, MS, OTR/L, FAOTA, an occupational therapist with a background in Alzheimer's disease and dementia
Erminia "Mimi" Guarneri, MD, FACC, president of the American Board of Integrative Holistic Medicine
Breeda Miller, a stand-up comic who finds humor in caregiving as part of the "Sandwich Generation"
Teepa Snow returns as a MAIA speaker for the second year in a row, and is leading a special pre-conference workshop for direct care providers on Wednesday, August 13, at USI. Her presentation is titled, "Positive Approaches to Provide Support and Care: Changing Challenging Behaviors," and will be held from 9 a.m. to 2:30 p.m. in Carter Hall in the University Center West. Her presentation will give participants a hands-on opportunity to try out new caregiving skills in a safe, engaging environment. This workshop will be useful to direct care providers who work in long term care and home health settings and care for those with memory disorders, dementia and/or Alzheimer's disease.
For registration information on MAIA and the pre-conference workshop, visit www.usi.edu/health, call 800-467-8600, or email outreach@usi.edu.