Many thoughts may come to mind when hearing the words "host family," and because of misconceptions, many of us may not seek out more information for fear of time commitments or the responsibility we believe comes with hosting. Some may not even be aware that the opportunity to host an international student is offered at USI.
Any employee of USI can host an international student through the Host Family Program. We have students from 50 countries: some who are here to obtain a degree and some who are here as an exchange student for a semester or a year. Being a host does not mean they stay in your home. There are no financial obligations. A host is not there for tutoring purposes or to sort through immigration regulations.
A host is, quite simply, is a friend. Whether it's a cup of coffee on campus, a ride to a store, an invitation to an occasional dinner, attending a sporting event, strolling through an art gallery or seeing a movie, the experience is what you make it.
Barbara Goodwin, senior administrative assistant in Photography and Multimedia, and Dr. Kevin Valadares, chair of Health Administration, shared their experience as host families and how it proved to be mutually beneficial.
"I always wanted to have a host experience because I want my daughters to know there's more out there than Evansville, Indiana, more than the United States," said Goodwin. "I think when kids are exposed to people different from themselves it makes them a better person, a more sympathetic and understanding person."
Valadares, the father of three children, agrees that hosting a student is a wonderful way of sharing American culture, while simultaneously learning along with his children about the students' cultures. "It's taught me a lot about other cultures, but mostly it's taught me that we are much more similar than we are different," he said. "It's such a great opportunity to get to meet people that you would just never be able to meet if it weren't for this program and the University."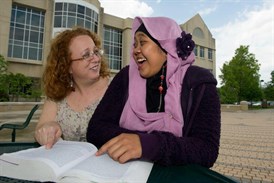 Goodwin began hosting three years ago and enjoyed the experience so much, she has hosted ever since. "I usually talk to them first on Facebook. I keep it simple and meet them for coffee or lunch a couple of times, and from there, if it goes great, I'll invite them to my house." The host students enjoy spending time with Goodwin's daughters, Molly, age 17 and Emma Kate, age 8. "A lot of these students are missing their siblings," she said. "They just want a family to hang out with every once in a while."
Valadares likes to invite his host students to his home for a glimpse into the life of a typical American family. One of his favorite occasions to share is Thanksgiving, where he has the students actively participate in chopping vegetables and even supervising while they deep-fry the turkey. "They're away from home and some of them don't go back for years," he said. "To be in a home where they feel a sense of family and get to have a home-cooked meal, they see this is what a normal [American] family is like; it's not what you see on television."
As the fall semester approaches, International Programs and Services is in need of more families or individuals to be a friendly face on campus for incoming international students. There are no requirements for speaking languages outside of English. There is no a minimum amount of activities or invitations that must be met. They ask for a one-year commitment, but are flexible and understanding if this can't be met. "We do ask that there's some type of communication," said Nicole Vernon, program coordinator. "It doesn't need to be constant activity, just whatever fits best for the student's schedule or host's schedule; just checking up with an email or phone call means a lot. The students get the sense that they are involved and belong here."
Nawras Mahmood, an exchange student from Iraq hosted by Goodwin, describes her short stay on campus and her host experience as having a wonderful impact. "Having someone who cares about you, who wants to enrich your experience by introducing you to different foods, places and people, who wants to know more about your culture and your country and respects you as you are - these are all things that make you feel you're home," she said.
The process to apply to host is simple: complete a short online form with your interests. Applicants will then be matched with students. For more information contact Nicole Vernon at 812-228-5092 or nmvernon@usi.edu.