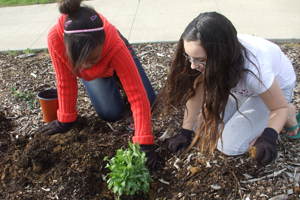 On Saturday, April 12, hundreds of local youth will take to the streets of Evansville for "Together, Youth Make Change," a youth-led initiative designed to clean and beautify city parks. Coordinated by USI's Service Learning Program, participants will join millions of other youth around the world who are celebrating Global Youth Service Day (GYSD).
More than 500 young volunteers from area schools will begin picking-up litter at 9 a.m. Participants also will help with planting, painting, mulching, and more. The event will be followed by a celebration of youth service at shelters in Garvin Park and Howell Park where free food and drinks will be available for the participants. The event will take place rain or shine.
State Farm Youth Service America, Disney, and Sodexo are providing funding for the events and several local organizations are collaborating, including the City of Evansville, Clean Evansville, Keep Evansville Beautiful, Republic Services, YMCA, 14 News, United Way of Southwestern Indiana, Evansville Vanderburgh School Corporation, and many additional youth organizations and schools.
Celebrating 26 years, Global Youth Service Day recognizes the positive impact that young people have on their communities year-round. Held each year in April, Global Youth Service Day is a time when millions of young people come together for celebrations and community service projects, often designed to address and raise awareness around tough community issues. With GYSD projects in all 50 states and more than 100 countries, GYSD is the largest service event in the world.
Additional information can be found online or by calling 812/464-1989.