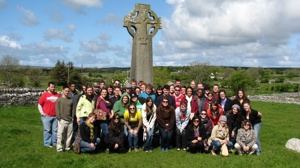 The University of Southern Indiana Women's Choir and Chamber Choir will appear in concert at 3 p.m. Sunday, May 4 at Old North United Methodist Church, 4201 Stringtown Road in Evansville.  
The concert will feature pieces for the Women's Choir by Victoria, Milliken, Casals, and Rosenthal. One of the works performed, "Voices of Terezin" by Aaron Rosenthal, is based upon three poems from "I Never Saw Another Butterfly," a collection of poetry from children who lived in the Terezin ghetto during World War II.   
The USI Chamber Choir will perform works for sacred spaces and a selection of Irish traditional pieces composed by director Daniel Craig, associate professor of music. Included in the repertory will be works by John Rutter, Michael McGlynn, Jacob Gallus, Charles Villars Stanford, and Ola Gjeilo.
This concert will be the last appearance of the USI Chamber Choir before their upcoming concert tour to Ireland beginning May 12. This will be the sixth time the USI Chamber Choir has toured Ireland, performing concerts for the benefit of Irish charities.
During the tour, the USI Chamber Choir will perform for a weekly mass in St. Mary's parish church, Dingle. They will perform a full concert at the Lisdoonvarna, Pavillion, Lisdoonvarna, County Clare in benefit of the Lisdoonvarna Stella Maris Care Center, a comprehensive day care center for the elderly. In Galway, the choir will perform in St. Augustan's Catholic Church to sponsor Noel Shannon, a rider in the Galway Blue Challenge charitable bike race and the Galway Branch of the Multiple Sclerosis Foundation.
The final performance of their tour will be in St. Patrick's Cathedral in Dublin. This concert will be a luncheon recital including music by John Rutter, Charles Villiars Stanford, Ola Gjeillo, William Dawson, and Daniel Craig, and music for double choir by Jacob Gallus.
While touring, the choir will make informal appearances at Blarney Castle, The Rock of Cashel, Bunratty Castle, the Galway Cathedral, the Cliffs of Moher, the Gallrus Oratory, and the parish of Glendalough.  
For more information, contact Craig at dcraig@usi.edu or 812-568-0039.