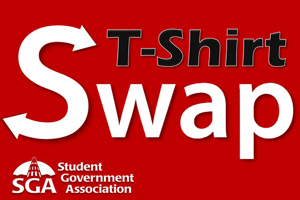 The USI Campus Store and the USI Student Government Association (SGA) will be holding the second annual T-shirt Swap. Students, faculty, and staff can bring a T-shirt from any other university and trade it for a free USI T-shirt. T-shirts, without a trade-in, may be purchased for $3 plus tax.
The T-shirts feature the new USI athletic logo and gives the USI community the chance to share their University pride and spread the University brand. "Last year we hosted the T-shirt Swap with the goal of improving school spirit, and we were overwhelmed with the response we received," said Sarah Krampe, former SGA president. "We're hoping the 2014 T-shirt Swap will be bigger and better than ever! With the T-shirts featuring the new logo, we think students will be feeling a reignited sense of Screaming Eagle pride!"
SGA representatives will be in the University Center West from 10 a.m. to 2 p.m., April 14 - 17 to facilitate the swap. The USI Campus Store also will swap or sell shirts during normal operating hours. Cash, credit, or Flex accounts are accepted.
Collected T-shirts will be donated to Goodwill Industries.
Additional information can be found at www.usi.edu/swap