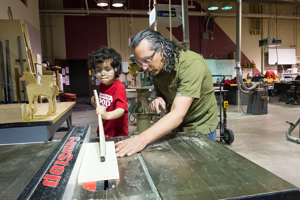 The patter of little feet will soon be parading across campus to spread the word about the annual Children's Art Show at the University of Southern Indiana's Children's Learning Center. Artwork, including painting, wood and clay sculpture, drawings, and bead work made by children ages 2 - 5 will be displayed at the center from 4 to 6 p.m. Friday, April 11, and 10 a.m. to noon Saturday, April 12. The children's work is available to purchase for $5 (includes tax).
"Art is important for children for a variety of reasons," said Martina Abell, preschool teacher with administrative duties. "It helps children develop fine motor skills, self-esteem, sensory exploration, perceptual abilities, problem solving, an appreciation of different points of view, and awareness of culture."
A silent auction also will be held from 11 a.m. to 1 p.m., Friday, April 11 in Traditions Lounge in USI's University Center East. Items include jewelry donated by SK Rhoades, movie tickets, Evansville IceMen packages, oil changes from Menke's Automotive, and more. Donations for the auction are still being accepted.
Proceeds from the auction and artwork sales go toward supplies for the center, as well as a child-sized picnic table made of recycled plastic bottle caps. The center has been collecting plastic lids and caps to teach the children the importance of recycling.
All events are open to the public. Cash and checks are accepted. For more information contact Martina Abell at mlabell@usi.edu or by phone 812-464-1869.