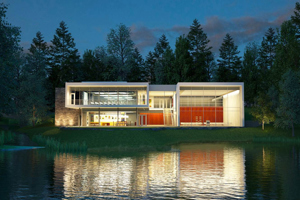 At its regular meeting on January 9, 2014, the University of Southern Indiana Board of Trustees approved an authorizing resolution for construction of a new conference center that would meet the need for more meeting and conference space on the USI campus. 
Proposed for construction on the southwest side of campus overlooking Reflection Lake, the 12,700 square-foot conference center will include a 2,400 square-foot meeting room that will accommodate about 150 guests. Other meeting spaces, related breakout areas, and food service support facilities also will be included. 
The $5.75 million conference center will be funded through $5 million in private gifts and $750,000 in University funds from the University's Parking and Transportation Reserve. The University funds will be used to build an access road and parking lot for the facility. 
Completion of the conference center is expected in late 2015. 
The Board met in Indianapolis, where it heard reports on other planned and current construction projects and the 2014 Indiana General Assembly.