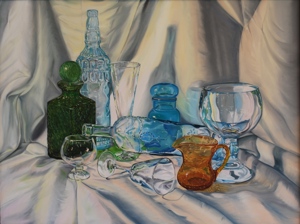 Fifty-seven University of Southern Indiana senior art majors are displaying their creative work in the 2013 Senior Seminar Exhibition at the Kenneth P. McCutchan Art Center/Palmina F. and Stephen S. Pace Galleries. The exhibition is on display through December 15.
There will be a reception for the student artists from 2 to 4 p.m. Sunday, November 17. Light refreshments will be served and the public is invited to attend.  
The senior art and design seminars are capstone courses for art and art education majors, and combine discussion of current aesthetic issues in the visual arts with practical knowledge in career or graduate school preparation as well as evaluation of student artistic growth and potential. This group exhibit is the culmination of these courses and a high point in the art majors' careers at USI.
The exhibiting seniors are Anna Adelman, Andy Akins, Alex Bailey, Lindsay Becker, Elizabeth Belt, Stephanie Blankenberger, Kayla Braden, Andrew Brenner, Jennifer Brown, Isaac Cage, Rachel Cartwright, McKinsey Clifford, Jared Cook, Kyle Devine, Paige Dockery, Ryan Dunn, Courtney Ellingsen, Ryan Evancoe, Laura Everest, Kristina Fitzgerald, Mai Fujibayashi, Melissa Gates, Rachel Goerges, Dixie Halber, Cherise Hawkins, Colin Hildenbrand, Haleigh Huck, Nicholas Jay, Nikki Jefferson, Alex Jordan, Christina Klausing, Ashlee Knight, Amber Koudelka, Samuel Kuban, Tonya Lance, Lori Lauderdale, Megan Lollar, Dakota Lykins, Jeffrey McClure, Alison Nord, Alex Patton, Debra Pellant, Laura Pierson, Marty Ransford, Adena Rasure, Morgan Ray, Amber Rich, 
Amber Riley, 
Zach Rothenberger, Adrian Rustman, Amanda Schmitt, Robert Smith, Kayla Smoot, Kelli Tincher, Kelsey Turner, Colin Wasson, and Kelsey Ziliak.
The McCutchan Art Center/Pace Galleries, located in the lower level of the Liberal Arts Center, is open from 10 a.m. to 4 p.m. Monday through Friday and 1 to 5 p.m. Sunday. For more information, call 812/228-5006.