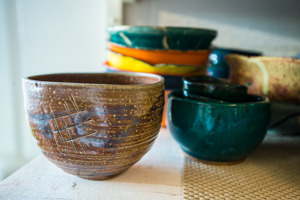 University of Southern Indiana students, alongside faculty and volunteers from the community, have created more than 500 ceramic bowls for the Empty Bowls charity event, scheduled to take place on Saturday, November 9. Empty Bowls is a national non-profit organization that lends its name to any organization willing to raise funds to combat hunger by making and selling ceramic bowls.
Bowls will be filled with soup provided by Twilight Bistro and sold for $10 from 11 a.m. to 2 p.m. Saturday at the Alhambra Art Gallery located at 56 Adams Avenue in the Evansville Arts District near Haynie's Corner. Beverages will be provided by Tropicana, Evansville. All proceeds will be donated to United Caring Services of Evansville.
This is the second year Alisa (Al) Holen, assistant professor of ceramics at USI, has organized the event. Holen was able to reclassify several ceramics courses as service learning courses, allowing students to both teach and learn at the same time.
USI ceramics students have been making bowls since the beginning of the semester. Other students, faculty, and staff, as well as groups from Bosse High School, North High School, North Posey High School, Deaconess Finance Department, the Evansville Department of Metropolitan Development, Arts, Beats and Eats, and Girl Scout Troop 121, have been involved with the project this year.
See a video of last year's Empty Bowls.
For more information, contact Holen by e-mail at aiholen@usi.edu or by phone at 812/228-5127.