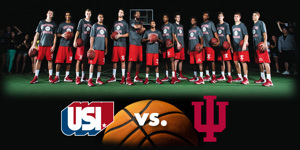 Join in the excitement as the University of Southern Indiana hosts a free live viewing event for the first ever meeting of the USI Screaming Eagles and Indiana University Hoosiers during a men's basketball exhibition game on October 26.
While tickets for the Bloomington, Indiana, exhibition game may be a sellout, fans can still share in the experience through a free, live digital broadcast of the game at the USI Physical Activities Center (PAC) on October 26. Doors open at 5 p.m., one hour prior to the 6 p.m. Central Time tip off.
"Tickets for the game are already sold out, and it won't be televised, but, we wanted to make sure our USI fans could share in the great experience that our players are going to have," said USI Head Coach Rodney Watson. "The PAC will be set up as if the Eagles are getting ready to take the court, giving the gym a real basketball atmosphere."
The game will be shown on two large screens through a live digital feed. USI's cheer team and Archibald Eagle will help set the scene for this first-ever showdown. Archibald Eagle also will be available for family photos with the USI Fall Festival float in front of the PAC before the game. USI Alumni Services will be handing out pom-poms and Archie temporary tattoos. Concession stands will be open to the public and students with a valid ID will receive a free combo meal including hot dog, chips, and a drink while supplies last. The USI Campus Store, located in University Center West, will be open from 9 a.m. to 6 p.m. that day for those interested in USI apparel and other items. There will be several t-shirt giveaways during the game.
"We hope our community will pack the PAC," said Watson. "This exhibition game is an excellent opportunity for our fans to tip off the season, get together in one spot to watch the game, and have some fun with the first ever meeting between the two programs."
The Eagles, who began practice October 15, were 23-8 overall in 2012-13 and advanced to the GLVC Tournament finals and the NCAA II Midwest Regional semifinals. The Hoosiers were 29-7 overall last year—14-4 in the Big Ten—and advanced to the NCAA Division I Sweet 16.
The Eagles also will travel to the University of Tennessee on November 7 to take on the Volunteers. A full schedule of games for the 2013-14 men's basketball season is available at gousieagles.com