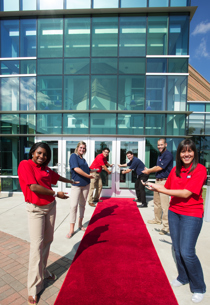 The University of Southern Indiana is rolling out the red carpet for prospective students and parents this fall on three Southern Hospitality Days. The Saturday visits are scheduled for October 19, November 9, and November 23.
Research shows that a personal visit is the most trusted source of information for prospective students choosing where to attend college. "The campus visit is everything when it comes to college selection," said Mark Rusk, associate director of admission. "Every college campus has its own distinct personality. It may be something as seemingly insignificant as the school colors," Rusk said. Students are looking for "a personal fit feeling that they can only get by visiting a campus." 
The friendliness of USI's people, the new facilities and technologies on campus, housing options, and campus safety have historically attracted students and their parents to choosing USI, Rusk said. The location of campus just outside city limits also provides ample opportunities for outdoor activities.
Attendees of Southern Hospitality Days will take a walking tour of campus, meet with admission counselors and faculty, and visit with current students. Residence hall tours also are offered.
The October 19 visit will be hosted in coordination with the Recreation, Fitness, and Wellness Center's annual Rec Madness event. Visitors on this date will be provided lunch and have the opportunity to view student volleyball and basketball tournaments and other activities.
More than 1,000 visitors have already registered for fall Southern Hospitality Days. Persons can register online for any of the three visits. There is no cost to register or to attend. More information is available online at www.usi.edu/visit.
The University of Southern Indiana is a comprehensive public university located in Evansville, Indiana.  USI, an institution celebrating its 50th anniversary in 2015, has more than 34,000 alumni who hold undergraduate and graduate degrees. Current student enrollment is nearly 10,000, and programs are offered in business, liberal arts, nursing and health professions, and science, engineering, and education.