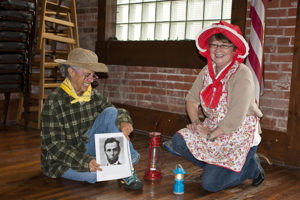 USI's Historic Southern Indiana and Indiana's Historic Pathways will sponsor "Getting from Here to There: The Story of Southern Indiana's Transportation Routes," at 9 a.m. on Tuesday, October 1 at the Lawrence County Museum of History located at 929 15th Street in Bedford, Indiana. The workshop is geared towards third- and fourth-grade teachers but is open to anyone who would like to attend. 
Teachers will discover innovative ways to tell the story of community, early settlement, and westward migration using Indiana's teaching standards. Topics will include Native Americans, military forts, one-room schools, and roads and bridges. A panel session will highlight classroom project ideas from current teachers. View the complete agenda. 
Indiana's Historic Pathway is a Y-shaped route that stretches 250 miles across the southern half of Indiana, along U.S. 50/U.S. 150 from Vincennes to the town of Shoals. At that point, it forks and continues along U.S. 50 to Lawrenceburg and along U.S. 150 to the Falls of the Ohio. The byway tells the story of early settlement, westward migration, and transportation in Indiana. It was designated a state scenic byway in 2004 and received national scenic byway designation in 2009.
Registration is $20 and includes lunch and teaching materials. 
To register, contact USI's Division of Outreach and Engagement at 812/464-1989 or 800/467-8600. Registration can also be completed online at /extserv/ssl/regform.asp with course number HSI950. The registration deadline is Tuesday, September 24. 
Historic Southern Indiana, an outreach and engagement project of USI, was created in 1986 to serve the southernmost 26 counties of Indiana. Its goals are to identify, preserve, protect, enhance, and promote the historical, natural, and recreational resources of the region. It seeks to implement those goals through programs in historic preservation, history education, heritage tourism, community development, and scenic byways. Its office is a part of the Division of Outreach and Engagement.