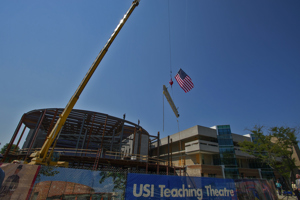 The Board of Trustees for the University of Southern Indiana met on Thursday, September 5, beginning with a topping out ceremony for the University's $17.2 million Teaching Theatre at the construction site on University Boulevard.
The ceremony preceding the beam-raising included a short musical program; signing of the beam by the USI Board of Trustees and other administrators and guests; and words from Ted Ziemer Jr., chair of the Board of Trustees, and President Linda L. M. Bennett. The Teaching Theatre is scheduled for completion in the fall of 2014.
Trustees heard a report on USI's Graduate Studies from its director Dr. Wesley Durham. He reported that graduate programs have seen enrollment increase by 16 percent from 2010 to 2012, bucking a national trend that saw a two percent decline in enrollment during the same period according to the Council of Graduate School's 10-year report.
Durham said there is a need to develop innovative, cross-disciplinary programs that meet regional, state, national, and international needs. He also hopes to explore distance, hybrid, and accelerated formats where appropriate.  "Graduate program development is essential for continued enrollment growth, and should be grounded in and guided by data and needs identified in the region," he said.
In other business, the Board approved a recommendation to approve a request for general repair and rehabilitation funds. The approval makes available the $683,963 appropriated by the 2013 Indiana General Assembly for repair and rehabilitation of campus facilities in fiscal year 2013-2014.
Trustees also approved housing rates and meal plan rates for the 2014-2015 academic year.