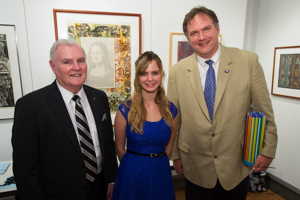 A new scholarship will provide assistance to students in the University of Southern Indiana's music program.
The David V. Deeg Music Scholarship, named for the longtime director of the Mid-America Singers, provides $500 to one student each year working towards completing a music minor and participating in one of USI's auditioned musical performance groups. Jessica Spears, a junior psychology major, is the first recipient of the Deeg Scholarship.
To the surprise of Deeg, the scholarship was announced during a reunion of the Mid-America Singers on August 30 at USI. Initial funding was provided by alumni of the singing group. They hope to continue to raise funds to fully endow the scholarship in the near future.
The Mid-America Singers and Band entertained tri-state audiences for 30 years before combining with the USI Madrigal Singers Show Choir in 2001 to form the USI Chamber Choir. In 1977, the Mid-America Singers gained national exposure by performing in "An Elizabethan Christmas Celebration" on PBS.
In addition to the mixed-voice Chamber Choir, which performs the annual Madrigal Feaste, USI's music program includes the Jazz Ensemble, an instrumental group, and the Women's Choir. All groups require auditions for membership.
To learn how to make a gift to the scholarship, contact the USI Foundation at 812/464-1918 or visit www.usi.edu/giving.