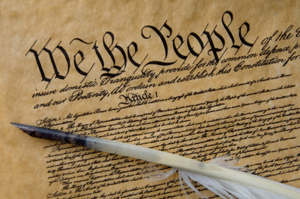 On September 17, 1787, the delegates to the Constitutional Convention met for the last time to sign the document they had created. For the fourth year in a row, the University of Southern Indiana will hold a public reading of the Constitution and Bill of Rights in honor of Constitution Day on Wednesday, September 18.
Faculty, staff, and students will read the document in its entirety beginning at noon in the University Center Amphitheater. USI President Linda L. M. Bennett will read Article II about executive power.
If it rains, the reading will take place in the Eagles Nest in University Center West.
The event is part of the University Core Curriculum 2013 Speaker Series. For more information, contact Dr. Mark Krahling, director of the University Core Curriculum, at mkrahlin@usi.edu or 812/465-1268.