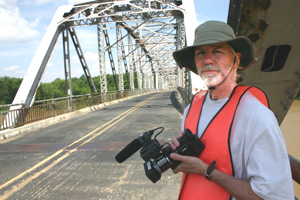 "In Harmony's Way: The Battle to Save a Bridge," a documentary film about the history of the closed toll bridge in New Harmony, Indiana, will kick off the Fall 2013 College of Liberal Arts Colloquia Series on Friday, September 13.
Produced by Dave Black, assistant professor of communications, the one-hour program traces the construction of the bridge, changes in its government oversight, and the recent efforts led by former USI President David L. Rice to find a long-term solution for its survival.
The video features interviews with bridge experts, political leaders, and area residents discussing the governance of the bridge and its importance to the southern regions of Indiana and Illinois. The program is narrated by Dr. Wayne Rinks, chair of the Department of Communications, and Pam Moore, senior administrative assistant in the College of Liberal Arts.
The screening is free and open to the public and begins at 3:30 p.m. in Forum I of the Forum Wing at the University of Southern Indiana.
For more information, call Dr. Melissa Stacer, assistant professor of criminal justice studies and coordinator of the series, at 812/465-7089.