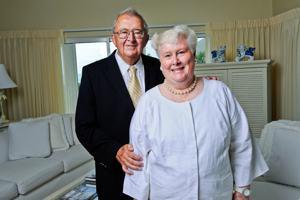 Long time University of Southern Indiana supporters George and Peggy Rapp have been honored as "Living Legends" by the Indiana Historical Society at its annual Living Legends Gala July 19 in Indianapolis. The title is bestowed on individuals in recognition of state and national accomplishments.
Dr. George F. and Margaret M. "Peggy" Rapp are New Harmony, Indiana, enthusiasts who ardently support the town and help preserve its history. Both received honorary degrees from USI in 2011.They currently are retired and reside in Indianapolis where, in addition to operating his private practice, he was a long-time clinical professor of Orthopedic Surgery at Indiana University School of Medicine. He also served as chief of orthopedic surgery at St. Vincent Medical Center for 18 years, and spent 20 years as director of the Scoliosis Clinic at Riley Children's Hospital.
Since retirement, the Rapps have devoted time to numerous philanthropic interests. Throughout their lives, they have been involved with a number of organizations including the University of Southern Indiana Society for Arts and Humanities.
They fund scholarships for graduating seniors at New Harmony High School and support two donor-advised funds they created through the Posey County Community Foundation. They also have established two charitable lead trusts and provide direct gifts to the USI Foundation to support the USI Annual Fund, Historic New Harmony, New Harmony Theatre, New Harmony Gallery of Contemporary Art, Society for Arts and Humanities, Schnee-Ribeyre-Elliott House renovation, and USI scholarships.
A native of New Harmony, Dr. Rapp earned his undergraduate degree from Indiana University and went on to earn his medical degree in 1957 from IU School of Medicine. He met and married Peggy MacNary from Hammond, Indiana. She received a bachelor's degree in elementary education from IU and taught in the Indianapolis public school system for several years after they were married.
Dr. Rapp has received numerous awards including the Otis R. Bowen Leadership Award in 2000 from IU School of Medicine; the Maynard K. Hine Medal in 1994 for his service to the Indianapolis campus of IU; and the Spirit of Philanthropy Award from Indiana University Purdue University at Indianapolis. He also received the Distinguished Alumni Service Award from IU in 2002.
Mrs. Rapp has served on the USI/New Harmony Foundation Board and as chairman of the beautification committee of New Harmony. She is a co-founder of the New Harmony Garden Club and co-founder of the Summer Hat Luncheon, a fund raiser for Historic New Harmony programs and services. She created the New Harmony Garden Tour and is a co-sponsor of the New Harmony annual Doll Tea Party.
She was instrumental in developing surgical suites and housing facilities for an IU Medical School project in Kenya. She chaired the first Black Tie Gala event for the Heartland Film Festival and received the Spirit Award for outstanding festival work. A lifetime trustee of the Indianapolis Museum of Art, she also received the Spooner Award for service to the Indianapolis Children's Museum Guild and was recognized with a service award from the IU Alumni Association.
Dr. and Mrs. Rapp are members of the Hoosier Salon Art Gallery Board of Directors. She is co-founder of the Hoosier Salon Gallery in New Harmony, and both are members of the IU President's Club. In 1998, they helped restore the Ravine Garden, now called the Rapp Family Ravine Garden at the Indianapolis Museum of Art.