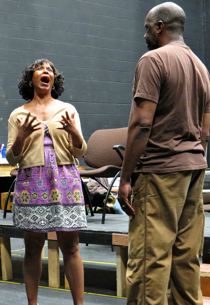 The University of Southern Indiana's New Harmony Theatre continues its 2013 season with August Wilson's drama Fences, which runs July 5-7 and July 12-14.
Equity actors include Ronald Conner, Ron Himes, Gayle Samuels, and Lorenzo Scott. Rounding out the cast are Marvin Bell, Marcus Callender, and Evansville native Jazmine Ragland.
Fences, directed by Elliot Wasserman, producing artistic director and chair of the Department of Performing Arts, depicts a man struggling to survive as an individual and provide for a family in a 1950s steel town. Troy Maxson, played by Ron Himes, is an aging athlete who never had the chance to break the color barrier in major league baseball and now struggles against the daily hardships besetting him.
The season will draw to a close with the musical comedy Cotton Patch Gospel by Tom Key and Russell Treyz with music and lyrics by Harry Chapin. The show runs July 19-21, July 26-28, and August 2-4. Cotton Patch Gospel is directed by Eric Altheide, New Harmony Theatre's resident associate director and assistant professor of theatre.
Tickets are on sale now. All evening performances start at 7:30 p.m. and matinees begin at 2 p.m. Individual adult tickets are $28 for Fences and $35 for Cotton Patch Gospel. Discounted tickets are available for students and seniors.
The New Harmony Theatre is a professional Equity theatre produced by USI and is the Tri-state's only professional Equity theatre. Plays are performed in the historic Murphy Auditorium located at 419 Tavern Street in New Harmony, Indiana.
For more information, or to make a purchase, visit www.newharmonytheatre.com or call the box office at 812/682-3115 or toll free 877/NHT-SHOW.