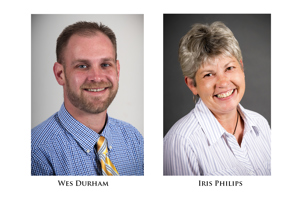 Director of Graduate Studies
Dr. Wesley Durham, associate professor of communication studies, has been named director of Graduate Studies at the University of Southern Indiana effective July 1. Durham has been interim director of Graduate Studies since July 1, 2011 when he replaced Dr. Peggy Harrell, who retired. He will continue in his role as associate professor.
"I'm very pleased about the appointment of Dr. Durham; he brings innovation and excitement to Graduate Studies," said Dr. Ronald Rochon, USI's provost. "It's been truly a pleasure working with him over the past year while he served as interim director—Wes brought a 'can-do' attitude to work every day as he emphasized the importance of campus collaboration and interdisciplinary graduate programs. He's the right person to serve USI in this capacity."
Durham joined USI in 2004 as an associate professor of communication studies and became the director of the Master of Arts in Communication program when it was established in 2010. He received an undergraduate degree and master's degree at Western Kentucky University and completed his doctorate at the University of Nebraska-Lincoln.
"USI has tremendous opportunities for growth and development in graduate programs, and I'm excited to be in a position to help facilitate that growth," said Durham. "Over the last year and a half, we've made great strides in Graduate Studies thanks to the collaboration between graduate faculty, program directors, and administrators across campus."  
Administrative Fellowship
Dr. Iris Phillips, professor of social work and chair of the Social Work Department in the College of Liberal Arts has been named faculty assistant to the provost at the University of Southern Indiana effective August 5.  She will be the first to occupy the new fellowship position created to give faculty members with an interest in academic leadership an opportunity to gain administrative experience. The fellowship is a temporary, 10-month position, for which a new faculty member will be selected each year. Qualified faculty must be tenured at the rank of associate professor or professor with a minimum of four years of experience at USI.
Phillips holds a doctorate and a master's degree in social work from the University of Louisville, and a bachelor's degree from Indiana University Southeast in New Albany. She taught in the Kent School of Social Work at the University of Louisville before coming to USI in 2001. As faculty assistant to the provost, she will spend 50 percent of her time in the Office of the Provost, while maintaining her chair responsibilities. The new position will provide opportunities to collaborate with other University leaders on campus-wide initiatives and projects.
"It's an honor to be selected to serve as the faculty assistant to the provost as the fellowship provides a remarkable opportunity to enhance my leadership and administrative skills by working with knowledgeable University leaders," said Phillips.