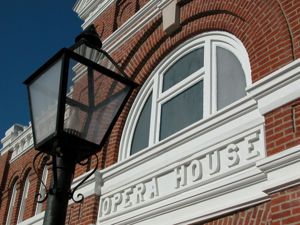 Historic New Harmony is excited to offer a new Architecture Walking Tour. This walking tour of New Harmony includes 30 buildings representative of the wide variety of architectural styles in the town.
The tour is provided by OnCell Systems, a platform for mobile tours. By calling the number on the stop sign, you will be able to access Historic New Harmony's tour. You can start at any of the stops and can stay connected to the tour as you walk through town, or you can hang up and call back into the tour as often as you like. This tour is cosponsored by the Robert Lee Blaffer Foundation.
Once you have accessed the tour, you will hear a greeting and be prompted to enter a stop number on the tour. The stops on the Architecture Walking Tour begin with STOP 26, the Atheneum, located at 401 N. Arthur Street. Printed information about the tour, including a list of stops, is available at the Atheneum as well.
If you are using a smart phone, you will receive a text with a link to the mobile version of the tour once you dial in. This version includes a map, audio, photos, and text. You can also download an app from the iPhone App Store or from Google Play. The audio portion of the tour is available to all cell phone users (your phone does not have to be data enabled). Standard cell phone rates apply.
If you have any questions about the tour, the location of the stops or the tour stop signs, please contact Missy Parkison, community engagement manager for Historic New Harmony, 812/682-4488, mparkison@usi.edu. Comments about the tour can be left while listening by pressing *0. We welcome your feedback and hope this new tour option facilitates wider sharing of the amazing architecture we enjoy in New Harmony.
Historic New Harmony is a unified program of the University of Southern Indiana and the Indiana State Museum and Historic Sites.