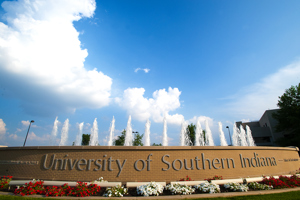 At its May 3 meeting on campus, the University of Southern Indiana Board of Trustees heard a report on the outcome of the 2013 Indiana General Assembly and a new two-year state budget. Cindy Brinker, vice president for Government and University Relations provided a summary of the legislative session.
Summary highlights included:
University's operating appropriation will increase by approximately 5.1 percent, from $40,109,493 in fiscal year 2013 to $42,164,854 in fiscal year 2014, and will remain flat in fiscal year 2015
Two new line items were included in the University's budget with $274,000 appropriated in fiscal years 2014 and 2015 for dual credit priority courses, and $2 million appropriated in fiscal years 2014 and 2015 for full-time faculty support
$1,367,926 was appropriated through the General Repair and Rehabilitation formula
$18 million in cash was appropriated over the biennium for USI classroom renovation and expansion projects including the Physical Activities Center (PAC), Biology Department, and the Technology Center.
The University also will hold a public hearing the week of May 20 to discuss proposed tuition and mandatory fees for 2013-2015.
A full summary of the biennial budget can be found at www.usi.edu/govrelations
In other business, the Board approved the Presidential Evaluation Policy discussed and reviewed at its meetings on January 10, 2013, and March 7, 2013; approved promotions, retirements and emeritus titles; and reviewed the New Program Development Plan revised by the Academic Planning Council on March 25, 2013. The plan includes new baccalaureate degrees in anthropology and environmental science proposed for this year, as well as additional bachelor, master and doctoral degrees in coming years. The Board also reviewed a report on current and proposed construction projects.