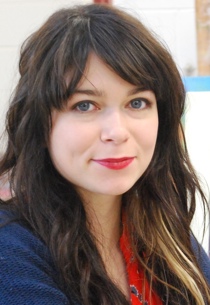 The paintings of Jamie Gray Williams, the first recipient of the Efroymson Bridge Year Fellowship in the University of Southern Indiana's Department of Art, are on display at USI's Kenneth P. McCutchan Art Center/Palmina F. and Stephen S. Pace Galleries through June 29.
The Efroymson Bridge Year Fellowship is a competitive award from the Efroymson Family Fund that provided Williams, a recent graduate of the USI's Department of Art, a year to work on creative projects, apply to graduate programs, and assist in exhibition spaces and teaching under the supervision of a faculty mentor.
Williams says of her recent paintings, "My current work focuses on the representation of the human as a mere physical entity and upon the loss of individuality in our highly sexualized patriarchal Western culture. These depictions tend to rob their subjects of personality and humanness. Similar to how they are presented in media and visual culture, the figures appear as vacant and hollowed bodies to be observed and casually consumed by others."
Summer hours at the McCutchan Art Center/Pace Galleries, located in the lower level of the Liberal Arts Center, are 10 a.m. to  2 p.m. Monday through Friday and 1 to 5 p.m. Sunday.