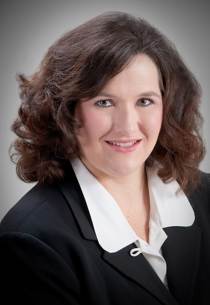 Dr. Shelly Blunt, associate professor of chemistry, has been named the new assistant provost for Academic Affairs at USI effective July 1. Blunt has held the position of interim assistant provost for Academic Affairs since July 1, 2012.
"I'm extremely excited about Dr. Blunt's appointment, as she brings great experience to the position.  She will serve as a wonderful colleague within the provost's office," said Dr. Ronald Rochon, USI's provost. "Shelly is hard-working, extremely smart, and well-respected within the academic community. I am extremely confident that Dr. Blunt will continue to serve the University well."
Blunt completed her Ph.D. in organic chemistry at the University of Iowa. She then taught for a year at Southern Illinois University in Carbondale before coming to USI as an assistant professor of chemistry in 1999. She was promoted to associate professor of chemistry in 2005, and joined the Office of the Dean as the associate dean of the Pott College of Science, Engineering, and Education in August 2006.
"I am honored to serve as the assistant provost for Academic Affairs," said Blunt. "This is a vital time for USI as we prepare to launch the new core in fall 2014, and I look forward to supporting the efforts of our faculty, staff, and students to ensure a smooth transition. As the university moves forward, I hope to contribute to the growth and development of this remarkable institution." 
During her position as interim assistant provost for Academic Affairs, Blunt did not teach any chemistry courses, but she hopes to have the opportunity to do so in the future.