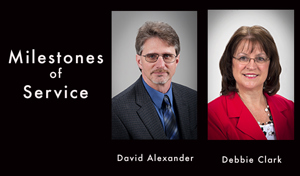 Fifty employees were recognized for their commitment to USI at the 2013 Milestones of Service for Administrators ceremony on May 15.
Now in its second year, the event is sponsored and coordinated by the Administrative Senate to recognize employees for their years of service to the University in five-year increments. "The reception provides the University an opportunity to recognize the dedication of the administrative staff," said Tim Jones, manager of Foundation Accounting and vice-chair of the Administrative Senate.
Among those honored were Debbie Clark and David Alexander.
As circulation manager of Library Services, Clark has experienced many changes during her 35-year tenure at the David L. Rice Library including moving to a new building, switching vendors, and adjusting to the challenges of ever-changing technology. She recalls students using typewriters when she first started at the University in 1977 and recognizes the significant technological advances that now allow the library to offer laptops and iPads for student use.
Clark values that her roles in the library have allowed her the opportunity to interact with a diverse group of students, faculty, staff, administrators, and community members.  "Working at USI has provided me with a wealth of knowledge about procedures, technology, and more," she said. "It's been an amazing educational opportunity for me."
Alexander, senior systems analyst, started his career at USI in Information Technology more than 20 years ago and has seen the IT department grow from 18 employees in the early years to more than 50 today. He played a major role in implementing Banner, the University's integrated database system that he now manages, in 2004.
Alexander recalls being part of a team of IT employees tasked with installing internet access on all campus computers in 1994. "It took us 10 minutes to install the software on a computer," he said. "And it took an hour to answer users' questions about what the Internet actually was and what you could do with it. Of course, it's now difficult to remember a time when we didn't have the Internet."
Other employees recognized at the Milestones reception include:
5+ Years of Service
Tracy Archuleta, Athletics
Elissa Bakke M'09, Outreach and Engagement
Patricia Beagle M'05, University Division
Terri Bischoff, Publishing Services
Brody Broshears, University Division
Kat Draughon, Office of Planning, Research, and Assessment
Jane Friona, Southwest Indiana Area Health Education Center
Jennifer Greene '04 M'09, Library Services
Mary Harper, Student Financial Assistance
Justin Hill, Information Technology
Kathy Jones, Student Development Programs
Michael Murphy, Business Office
Amy Price, Housing and Residence Life
Mark Rozewski, Business Affairs
Noriko Walters, Outreach and Engagement
Laurel Wilson, Information Technology
Steve Woodall '78, Office of Public Safety
Lance Woods, Information Technology
Pat Zimmerman, Human Resources
10+ Years of Service
Krissy Engelbrecht, Athletics
Mike Hillyard '94, Athletics
Sue Kunkle, Athletics
Dan McDonnell, Sports Information
Eric Otto, Admission
Mitsuko Owa, Outreach and Engagement
Keely Porter, Athletics
Timothy Risley, Information Technology
Gregory Wagoner '82 M'06, Physical Plant
15+ Years of Service
Kristi Dedmond, Pott College of Science, Engineering and Education
Pam Doerter M'07, Career Services and Placement
Arlene Fortune '95, College of Liberal Arts
Scott Gordon, Pott College of Science, Engineering, and Education
Jon Mark Hall, Athletics
Michael Jones '96, Physical Plant
Phyllis Oeth '81, Special Events and Scheduling Services
20+ Years of Service
Mike Adcock '01, Information Technology
David Alexander '06, Information Technology
Laurie Berry, Housing and Residence Life
Steve Bridges '89 M'95, Business Affairs
Rita Brunner, Outreach and Engagement
Mary Hupfer '84 M'94, Business Affairs
Mohammed  Khayum, Romain College of Business
Laura McDaniel '74, Admission
Charmaine McDowell '85, Outreach and Engagement
Leslie Townsend '88 M'08, Historic Southern Indiana
Ann White, College of Nursing and Health Professions
30+ Years of Service
Cindy Brinker, University and Government Relations
Kathy Funke, University Relations
35+ Years of Service
Michael Aakhus, College of Liberal Arts
Debra Clark, Library Services